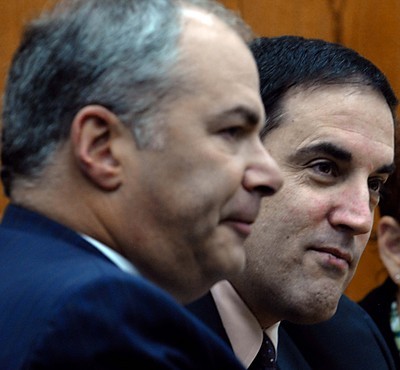 RENO — Restless nights in his hotel and disastrous days in the courtroom finally convinced District Judge Douglas Herndon to abandon his preference to hold the Darren Mack murder trial in Reno and to move it to Las Vegas, where 10 times as many potential jurors know less about the sensational case.
"This case has caused me to lose a lot of sleep over the past few nights," Herndon said Thursday.
"I think it's apparent there's a reasonable likelihood that an impartial panel cannot be found here," he said.
Mack, 46, is accused of stabbing his estranged wife, Charla, to death at his town house June 12, 2006, then shooting their divorce judge sniper-style in his chambers from a parking garage as the judge sat in his chambers. Chuck Weller has since recovered from a chest wound.
From the first request by the defense in April to move the trial, Herndon had said it was a Washoe County case that deserved to be tried in Reno. As recently as Monday, when Mack's attorneys filed their second motion for a change of venue, he said he was optimistic a jury could be seated.
Of a panel of 52 prospective jurors questioned on Monday and Tuesday, a dozen were seated. On Wednesday, a second panel of 34 people produced one additional juror, but a man who had been seated earlier was dismissed for making some statements that were determined to be untrue.
"So our net gain was zero," Herndon said dejectedly from the bench on Thursday. "Yesterday was just a disaster."
Herndon said he had not expected the prospective jurors to know so much about the case. He also was disappointed that many kept reading and watching news stories about the pending trial even after they filled out the jurors' questionnaires.
Of 400 people who were sent questionnaires, nearly half failed to return them or had been dismissed on Wednesday.
Attorneys for both sides said the decision was not unexpected.
"We're very, very excited. This is something we worked hard for," defense attorney Scott Freeman said. "It became apparent that as we had anticipated, it would have been difficult for people to set aside their opinions that they probably had."
Christopher Lalli of the Clark County district attorney's office, who was named a special prosecutor in the case, welcomed the judge's order to begin jury selection in Las Vegas Oct. 15.
"What we're pleased about is that we maintain the trial date and we continue on. I would have been very concerned if the trial would have been continued six months down the line."
In his detailed order, Herndon cited earlier sensational cases in Nevada in which no change of venue was granted — Priscilla Ford's Thanksgiving Day rampage in downtown Reno, Michael Sonner, who killed a Nevada Highway Patrol trooper and "sex slave" killer Gerald Gallego.
But he relied on a century-old murder case that was overturned because a venue change was not granted as weighing in on his decision.
"I'm completely impressed with the judge's scholarly approach to this issue," defense co-counsel David Chesnoff said after the ruling.
Herndon's order calls for juror questionnaires to be mailed in Clark County by Monday.
Herndon was assigned the case after all Washoe County judges were disqualified because the case involved a judge. Lalli and Robert Daskas were assigned from the Clark County district attorney's office after Washoe County DA Richard Gammick recused himself because of a long association with Mack and his family.
Unlike Ford, Sonner and Gallego, Herndon said Mack, a formerly wealthy pawn shop owner, was well known in the community, and that also played into his decision to change the trial's location.
Herndon also said in researching documents submitted by the defense, he found references to 144 newspaper articles and 242 television stories on the case in addition to Web site stories and blogs.
He said Ford's case in the early 1980s generated only 66 newspaper references.
In addition to the local news reports, Herndon said approximately 100,000 potential jurors live in Washoe County, which he said was a relatively small number from which to choose a jury in such a well publicized case.
"I don't think you can go anywhere without having knowledge about the case. But in Clark County, you have over 1 million (people) from which to choose jurors," he said. "I think moving it to Clark County makes sense."
Mack, who normally sits silently next to Freeman while paying rapt attention to proceedings, was asked by the judge if he agreed with the change.
"Very much so, sir," he replied.
"Would you agree that a move to Clark County would be in your best interest?" the judge asked. "Absolutely, sir," Mack responded
After the incidents of June 12, 2006, Mack fled the Reno area and ended up in Mexico, where he surrendered 11 days later. Charged with murder and attempted murder, he has pleaded not guilty by reason of insanity.