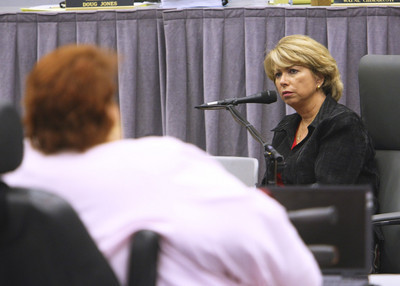 The fight between suspended District Judge Elizabeth Halverson and her accusers turned into a brawl Tuesday when she took the witness stand and angrily denied the charges against her.
In combative testimony during the Nevada Judicial Discipline Commission hearing, Halverson said she never treated her former bailiff like a personal servant, touched him inappropriately or ordered him to spy on court staff. She maintained that she has been persecuted by political enemies who want to remove her from the bench.
"You're asking me if I believe that Judge (Kathy) Hardcastle has bad feelings toward me and that's why she has an agenda against me? The answer is yes I do," said Halverson, who is asking a federal judge today to delay the hearings.
Hardcastle, who testified earlier Tuesday, denied she targeted Halverson for unfair treatment.
Halverson's testimony marked the first time in more than a year that she publicly addressed the accusations against her in detail. During her hour-long testimony, Halverson and the commission's special prosecutor, Dorothy Nash Holmes, verbally sparred with and shouted over each other.
Halverson also appeared to take offense when Holmes mistakenly referred to Halverson as a former judge.
"I'm still a sitting judge now. I'm just suspended. I'm not going to be denigrated," she told Holmes.
Halverson, who is a running for re-election, has been on paid suspension for more than a year. During that time she has continued to draw her $130,000 annual salary.
She was elected to Department 23 in 2006 and was on the bench for less than two months before accusations about her behavior surfaced.
This week, Halverson filed a civil rights complaint in federal court against Holmes and the discipline commission. The complaint alleges the commission is denying Halverson her constitutional right to a fair hearing by withholding information necessary to defend herself.
Her attorneys also asked a federal judge to temporarily stop her hearing this week in Las Vegas. U.S. District Judge Robert Jones agreed to hear arguments in the case today.
The discipline commission filed a complaint against Halverson that accused her of 14 counts of misconduct. It said that Halverson mistreated her staff, could not adequately conduct trials and fell asleep on the bench.
If Jones rules against Halverson, she is expected to retake the stand today. Halverson's disciplinary hearing, a quasi-judicial proceeding similar to a trial, was expected to wrap up Friday.
At the end of the hearing, the seven commissioners would decide whether there is enough evidence of misconduct. If so, she could be removed from the bench.
The accusations against Halverson have leaned toward the bizarre. Former bailiff Johnnie Jordan testified Monday during an emotional hearing that Halverson ordered him to give her back massages, rub her feet and heat her lunches using a microwave kept in a courthouse bathroom.
In her testimony Tuesday, Halverson denied the charges.
Halverson also testified that she never fell asleep during trials or improperly communicated with jurors. Halverson, who was accused of eating dinner with jurors who were deliberating in a criminal case, admitted she did so but said the incident was not something that she was trying to hide; they were in a courtroom, and the food was served family style.
She said they never talked about the case and mentioned that other judges had dinner alongside jurors.
Hardcastle, who testified for more than three hours Monday and Tuesday, said Halverson did not respect the court and forced staff to spend an inordinate amount of time dealing with complaints against her. Court staff and even jurors complained about Halverson's behavior, she said, noting that some judges would refuse to attend scheduled meetings if they knew Halverson would be there.
Halverson formerly worked as a clerk at the District Court but was let go by Hardcastle, who has a policy of keeping clerks typically for one year. Halverson also ran against Hardcastle's ex-husband, Gerald Hardcastle, who was a Family Court judge.
Following the hearing, Halverson answered questions after she was mobbed by reporters. She reiterated that there is bad blood between her and Hardcastle.
"We are politicians whether you want to accept that or not. Politicians have political enemies," she said. "Being realistic about who your political enemies are does not make you crazy. It makes you knowledgeable."
But Halverson also said she was thrilled that she was able to testify and tell her side of the story Tuesday.
"This is a bunch of hype," she said. "I have the absolute right to be acquitted of these charges."
Contact reporter David Kihara at dkihara@reviewjournal.com or 702-380-1039.
ON THE WEB
Slideshow: Elizabeth Halverson testifies on day two of the trial