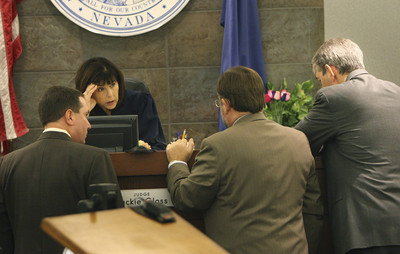 If District Judge Jackie Glass had a gavel, she might have snapped it in half Tuesday.
On day two of testimony in the O.J. Simpson armed robbery trial, the judge frequently found herself playing the role of exasperated parent to a courtroom of bickering children, holding multiple bench conferences with lawyers and refereeing a number of verbal jousting matches.
"Stop! Stop! Stop!" Glass yelled at prosecutors and defense lawyers after a round of objections during cross-examination of sports memorabilia dealer Bruce Fromong.
"This isn't going to become a free-for-all," she said.
Later during Fromong's testimony, District Attorney David Roger started asking a question that ignited another round of courtroom fireworks, all televised live on cable channel truTV, formerly Court TV.
"At the time the defendants came in with a bunch of guns and took your property … ," Roger began before being cut off by Simpson lawyer Yale Galanter, who jumped from his seat and shouted, "Objection!" in true Hollywood style.
"Sit down!" Glass yelled at him before returning calm to the courtroom.
"The last thing you want me to do, as a judge, is to lose my temper in front of the fine ladies and gentlemen of the jury and having to deal with all of you," Glass said to the lawyers.
She warned them to behave "or this is going to be a very, very unpleasant event."
Minutes later, Glass intervened again when Fromong and Robert Lucherini, a lawyer for co-defendant Clarence "C.J." Stewart, clashed.
Lucherini had asked whether Fromong was scared when Simpson, Stewart and four other men burst into a Palace Station hotel room in September.
"You might have been. I was not scared," Fromong replied.
Soon both men were talking over each other.
"Stop!" Glass shouted, slapping her hand on the bench.
Fromong finished his testimony without further interruption, but Glass didn't let the lawyers leave for lunch without reminding them to behave themselves.
In between the courtroom chaos, Fromong continued his testimony from the day before, which was cut short in the afternoon when he became dizzy and light-headed on the stand.
Prosecutors have charged Simpson and Stewart with 12 criminal counts, including armed robbery and kidnapping, in connection with the Palace Station incident.
Gabriel Grasso, Simpson's other defense lawyer, questioned Fromong about whether he tried to profit from the incident.
Fromong said he didn't.
If that was the case, Grasso asked, why did Fromong advertise Simpson photos on the auction Web site eBay as being identical to those stolen from him in Las Vegas?
"I'm a businessman. I've done what I've been doing for 24 years," Fromong replied.
Grasso also played an audio clip of a secret recording made during the incident. After Simpson and the others had left the room, a livid Fromong is heard talking to memorabilia dealer Alfred Beardsley and auctioneer Thomas Riccio, who set up the meeting.
"It's not over," Fromong said on the recording. "I'll have Inside Edition here for us tomorrow. I told them I want big money."
Fromong testified on Monday that he called the celebrity news show because the incident was news.
"I did not want to profit off this," he said.
Fromong, a longtime business partner and friend of Simpson's, said he and Simpson could have worked out an arrangement, such as an autograph signing, for the return of the game footballs and other one-of-a-kind memorabilia involved in the incident. He never would have taken money from Simpson for the items, which he legally acquired from former Simpson manager Mike Gilbert, he said.
"It was never a question of money," Fromong said. "I believe these items belong to Mr. Simpson's family. They should go to his kids."
Contact reporter Brian Haynes at bhaynes@reviewjournal.com or 702-383-0281.
View the slideshow O.J. TRIAL: DAY 6 • District Judge Jackie Glass scolded lawyers after several verbal sparring matches between them. Sports memorabilia dealer Bruce Fromong said he didn't try to profit off the incident. Surveillance video of Simpson and others at the Palace Station and the Palms was played for the jury.