Keeping Bikes Off Bumpers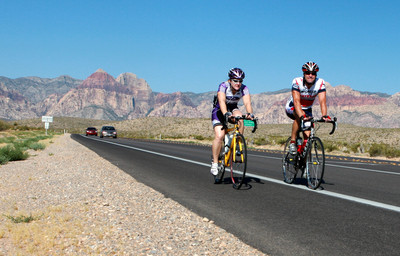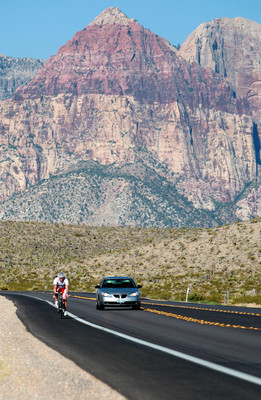 The feasibility of a 15-mile bicycle path planned to run parallel to state Route 159 in Red Rock Canyon is being studied, but not everyone is happy about it.
"It's all well and good, but serious cyclists will not use it," said Jim Little, president of the Las Vegas Valley Bicycle Club, and a member of the Nevada Bicycle Coalition.
"Serious cyclists," he said, make up about three-fourths of those using Route 159.
The bicycle path will be built separate from state Route 159, said Jed Botsford, project manager for the Bureau of Land Management. It would stretch from Summerlin to state Route 160 and weave a meandering trail through the landscape, he said.
"We're trying to keep the bicyclists away from the cars on the road," Botsford said.
The $2 million feasibility study is being funded by the Southern Nevada Public Land Management Act. It will look at several different paths at different costs and whether to build concrete paths, known as "Arizona crossings," through washes, Botsford said.
The study will also determine whether to use special surface material that would blend with the landscape, instead of asphalt, which sticks out in a desert setting like chocolate syrup on coffee ice cream.
"Our recommendation is don't do it," Little said. "They will be spending a lot of money that is not going to be used by three-fourths of the cyclists out there."
Little said maintenance of the bicycle route is the biggest concern.
"It will be great for tourists and weekend bicyclists," he said. But "unless they have a street sweeper out there and perform the upkeep on it, we're not going to use it."
Little explained that cyclists who are training for races move at such a fast pace that brush and rocks that might end up on the path after a wind storm would be a serious hazard.
Not to mention any gravel left by the off-road vehicle and dirt bike riders who are bound to be attracted to the path.
It's hard enough to get maintenance crews to clean up state Route 159, he said.
"People like myself, our people (members of the bicycle club) would like to stay on the road."
Botsford acknowledged the maintenance concerns cyclists might have with the path. When it comes time to get funding for building the bicycle path, he said, maintenance costs will be included in those requests.
Building the path is a reaction to public requests for a safe haven for bicyclists, Botsford said.
He acknowledged that cyclists training for races would likely stick to Route 159, but that getting casual bicyclists off the road would make the road safer for those in training.
The road has always been favored by bicyclists and joggers; but with the population growth in Pahrump and on nearby state Route 160, also known as Blue Diamond Road, there was a mass migration of traffic to Route 159 as an alternate route to and from Las Vegas.
As a result, Route 159 started gaining a reputation as a lethal stretch of highway.
One of the more publicized incidents was the death of off-duty Las Vegas police officer Don Albietz after he was hit by a tractor-trailer in July 2005. The driver fled the crash scene.
Albietz was riding a bicycle — training for a triathlon — on the side of Route 159 when he was struck from behind by the truck. The truck driver eventually was caught and pleaded guilty to several felony charges.
Little offered a different solution than building a new path: Enforce the speed limit on state Route 159.
If safety is the No. 1 reason for building the path, "start making people believers in the speed limit" by enforcing it, Little said.
Enforcement is infrequent until a cyclist gets hit, he said. "Speeding (vehicles) is the one single issue as far as cyclists go."
In an effort to make the road safer, the Nevada Department of Transportation has put up signs to keep tractor-trailers off Route 159, widened the road in areas to make it safer for cyclists and erected a fence to keep burros from wandering onto the road.
The 15-mile path would be an "out and back" route, Botsford said. Plans for a full loop would come later.
A public hearing is planned for Aug. 12, Botsford said. The study should be completed by late January.
Once a path is chosen, the next step would be securing the funding to build it.
Contact reporter Francis McCabe at fmccabe@reviewjournal.com or 702-387-2904.