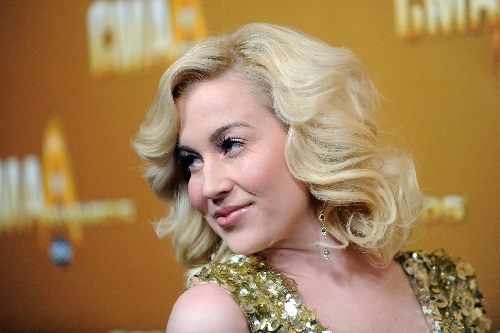 Sweet little country star Kellie Pickler made Clint Eastwood feel her up on the set of "The Ellen DeGeneres Show."
Pickler — singing Saturday at the Silverton — met Clint on "Ellen" in October. She got so overheated, she grabbed his "Dirty Harry" hand and put it on her chest so he could feel her racing heartbeat.
Pickler, 24, explains to us how this went down, in her deep North Carolina drawl:
"I figured, I'm just gonna take advantage of this while I can, and do what every woman wishes she could do right now. This opportunity might not ever come along again!"
Eastwood, 80, smiled but left the "Ellen" set.
"I think I scared him, and he hauled ass out of there!" Pickler says.
Pickler's husband, songwriter Kyle Jacobs, knew she was an Eastwood mega fan, so Jacobs was "a very good sport about it," she says.
Pickler — one of the biggest success stories to come out of "American Idol" — hasn't stopped recording and touring since 2006, she says.
"Everything's been such a whirlwind, and rush-rush-rush, and go-go-go, since 'American Idol.' I haven't had time to stop and stand still and catch my breath."
She's working on her third album.
"I can't wait to get new music out because we beat the same songs to death every night on the road, so it's nice to get some new ones to beat around."
She daydreams that one magical thing will come to her:
"I would love for Clint Eastwood to direct one of my videos and be in it — my love interest!"
SIGHTINGS
Eva Longoria's fresh ex, Tony Parker, is the official party host at 11 p.m. Saturday at club Lavo, 1.4 miles away from Eva's restaurant-club, Beso-Eve. In ye olden days, this brazen move by Parker would have been described indubitably as "uncouth." … Linkin Park is ever present Saturday, signing autographs 6-8 p.m. at Planet Hollywood's Club Tattoo (co-owned by Linkin Park's Chester Bennington), performing at MGM, then appearing at club Haze. … Gavin Rossdale is at club Bank Saturday. … Keri Hilson is at Haze tonight. … Chord Overstreet (Sam on "Glee") parties Saturday at club Tao with cast mates Dianna Agron, Mark Salling and Harry Shum Jr. Red carpet gawking is 10 p.m. … Ashley Greene (Alice from "Twilight") hosts Saturday at Pure. Will she take boyfriend Joe Jonas?
Doug Elfman's column appears Tuesdays, Thursdays and Fridays. E-mail him at delfman@reviewjournal.com. He blogs at reviewjournal.com/elfman.