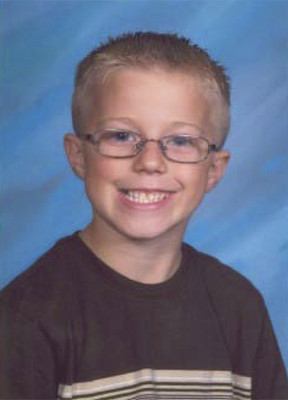 The father of kidnapped 6-year-old Cole Puffinburger said the boy's mother should have known the child could be in danger before he was taken by men with possible drug ties, according to a court motion seeking full custody of Cole.
In the motion filed Friday in Family Court, Robert Puffinburger said his ex-wife, Julie Puffinburger, "was aware of existing danger to not only her own safety, but also the safety of the parties' son, Cole." It does not elaborate.
Cole was kidnapped Oct. 15 from the northeast Las Vegas home shared by Julie Puffinburger and her fiance. The kidnappers claimed to be police to get into the house, tied up the adults and ransacked the house looking for money before snatching Cole, police said.
Amid a nationwide search for Cole, a bus driver found the boy three days later on a dark residential street near downtown Las Vegas. Cole had been dropped off minutes before and appeared unharmed.
Las Vegas police have said the kidnapping was meant to send a message to Cole's maternal grandfather, Clemens Fred Tinnemeyer, who had stolen millions of dollars in drug money from methamphetamine dealers. Tinnemeyer, 51, is Julie Puffinburger's father.
Tinnemeyer and his female companion were arrested last week in Southern California on federal material witness warrants. And a "person of interest" in the kidnapping, Jose Lopez-Buelna, was arrested in Las Vegas on unrelated gun charges.
Robert Puffinburger's motion hints at possible ties between his ex-wife, her fiance and Tinnemeyer's drug connection.
The couple recently bought a new house with significant upgrades, a new truck, new car and new trailer, according to the motion.
"These recent acquisitions raise at least suspicions as to the source of her revenues, particularly considering the fact that their prior residence was lost in foreclosure," the motion said.
After Cole was found, authorities turned him over to his father and recommended he immediately pursue full custody of the boy, the motion said.
Robert and Julie Puffinburger have joint custody of Cole.
Her lawyer did not return a phone message left Friday morning.
Robert Puffinburger filed for a temporary protection order on Monday to keep his ex-wife away from Cole. The order was granted, and a hearing on whether to make it permanent will be held Nov. 10.
Reached Friday afternoon, Robert Puffinburger said his son was "doing good" but wouldn't talk about the case. He also wouldn't talk about whether his son has been able to go back to school yet.
"We're all doing good," he said.
Review-Journal reporter Lawrence Mower contributed to this report. Contact reporter Brian Haynes at bhaynes@reviewjournal. com or 702-383-0281.