February 9, 2008 - 10:00 pm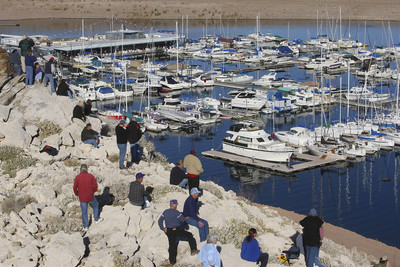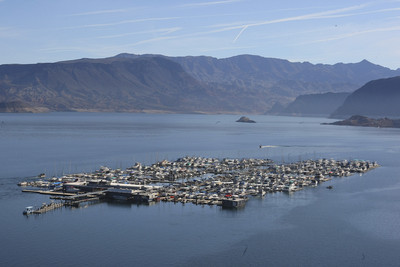 How do you move a 600-foot-wide, 470-slip marina?
Very slowly.
Because of low water on Lake Mead, the Lake Mead Marina was moved Friday morning to a safer location, all in one piece.
With a few of the docked boats powered up, the massive flotilla — complete with a store and restaurant — was steered about two miles south to join the Las Vegas Marina.
Dozens of people lined the shore to see the traveling marina, but some were disappointed at the lack of action. Top speed was about 1 mph.
"You can't even tell it's moving," said Roxanne Dey, public affairs officer for the National Park Service.
Workers started at 4 a.m., detaching the marina from the anchors holding it to the shore and making other last-minute preparations.
"These people are probably the most experienced people around," Dey said of the dock movers. "You don't just start it up and go. They've spent a lot more time preparing it than they will moving it."
Those who dock their boats at Lake Mead Marina were told in advance of the move. A few decided to move their boats themselves, but most just kept their boats where they were, in their slips.
"Great care has been taken to make sure their boats are kept in pristine condition," said Dan Dambacher, assistant general manager for Lake Mead Marina.
This is not the first time for such a move. Last year, a Lake Mead Marina dock joined Las Vegas Marina. That same month, the Overton Beach Marina split to join both the Callville Bay Marina and the Temple Bar Marina. That journey took about 40 hours.
The moves have become necessary as the water level continues to drop.
"We all understand that they have to do it," said Alan Stromberg, who has docked his two boats at Lake Mead Marina since 1977. "We're all just a little dubious about the move. It's an incredible thing to move the whole thing intact."
Several boat owners put down extra lines and fenders Thursday morning to make sure their boats were secure, Stromberg said.
"It's sad for us to see it move," he said. "You're so used to going to the same place and seeing the scenery."
Dey said the park service is unsure whether Lake Mead Marina will ever move back. The marina had been in Boulder Harbor since the 1960s.
"It's kind of disappointing," said Ed Cave, who had boats at both Lake Mead and Las Vegas marinas. "The Lake Mead Marina has been a landmark marina for many years."
Most people interviewed Friday were not concerned that moving the marina would increase traffic at the docks or the marinas.
"The lake is so large, and not everyone is using their boat at the same time," Cave said.
The launch ramp at Boulder Harbor, where Lake Mead Marina used to sit, will remain open to the public.
Once the move is complete, Hemenway Harbor will have both marinas and their 1,400 slips. The marinas will keep their names and management staff.
Contact reporter Scott Spjut at sspjut@reviewjournal.com or (702) 383-0279.