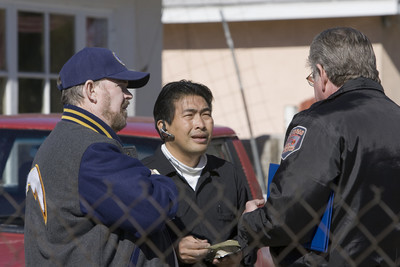 Sam Tung had been told once before not to let a man live in a motor home parked on his property at 415 S. 17th Street, according to city records.
City inspectors even reported in September that the person living there had moved out and removed all belongings. But the edict apparently didn't stick, said Devin Smith, who manages Las Vegas' Neighborhood Response Division.
"It appears that once we closed the case on it, he moved people right back in," Smith said.
That tenant died Tuesday when a fire blamed on an overloaded power strip destroyed the motor home. And Tung could face criminal charges because of it.
The property remained closed Wednesday as a swarm of city inspectors and Nevada Power workers descended on the scene.
Tung will be issued citations for dozens of safety violations on that property and at a house he owns across the street, and he won't be able to have electricity turned back on at the fire scene until those violations are fixed.
He also could face civil penalties for continuing code violations and criminal prosecution for the death of 50-year-old Kenneth Tillman, the tenant. Smith said information will be forwarded to the district attorney's office when the city and fire investigations are complete.
Tung said that he has owned the 415 17th St. property, near Charleston Boulevard and Maryland Parkway, for about five years and that he lives there with his wife, mother and four children. As many as five additional people lived in an outbuilding that had been divided into small rooms, and the now-charred motor home sits in the backyard.
He also recently bought the house across the street at 418 S. 17th St.
Tung, 43, promised to make the needed repairs and said he might have to request a rezoning if he wants to continue renting his property.
"I will take care of what the problem is. I always try to do my best," he said. "They ask me, I get it done."
Still, he said, the city was being too strict and the rest of his property isn't dangerous.
"I still don't get why they shut it down," said Tung, who said he emigrated from Thailand 33 years ago. "We have enough pain. Try to be understanding, not, 'Shut this down. Shut that down.' "
The motor home was getting electricity from an extension cord running from the house to a power strip. Fire investigators suspect the strip was the ignition point. But Tung said his tenant had a habit of leaving his heater on.
"The guy died. That can happen anywhere, can be any house. I've never had any problems until the guy died."
Not quite.
The Neighborhood Services department fielded complaints in 2005 and 2007 about litter and debris on Tung's property. He cleaned it up both times.
The complaint about the motor home resident arrived in August and was listed as resolved by the end of September.
The list of complaints got longer Wednesday. It includes substandard electrical wiring, a yard cluttered with barbecue grills, old furniture and children's toys, and too many people packed into small spaces.
The outbuilding at the 415 17th St. property was boarded up Tuesday, and the tenants were forced to seek other living arrangements.
Brian Martin, who identified himself as a disabled electrician, said he had been living in one of those building's five rooms for about two months.
They're small, and the tenants shared a bathroom with a toilet and a shower. The rent was $350 a month, including utilities. Martin said his room had the only sink, which cost him an extra $50 a month.
"It was affordable for everybody. We could get by," he said.
But renting the motor home was a bad move by Tung, Martin said.
"He got an extra $400 a month. Look what it's costing him. People get greedy, man. This whole town's about greed."
Contact reporter Alan Choate at achoate@reviewjournal.com or (702) 229-6435.