Las Vegas adopts new rules for homeless in parks
September 15, 2010 - 11:34 am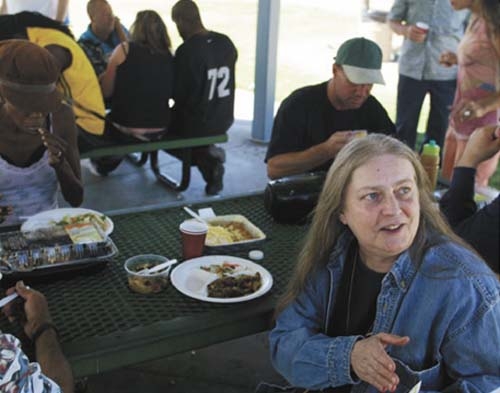 The Las Vegas City Council on Wednesday unanimously passed new rules about the treatment of homeless people in city parks, putting an end to a lengthy lawsuit that pitted the city against advocates for civil liberties and the indigent.
And then City Attorney Brad Jerbic and Allen Lichtenstein, general counsel for the American Civil Liberties Union of Nevada — men who are frequently at legal loggerheads — shook hands like they were good pals.
"Oh, boy. I wish I had a camera for that," said Mayor Oscar Goodman. "I can't believe what I just saw.
"It's a beautiful country where the ACLU attorney can shake hands with the city attorney."
Jerbic agreed that something unexpected had just happened.
"I think the record should reflect that a monkey just typed 'Hamlet,' " Jerbic said.
The ordinance implements a settlement agreement hammered out by the two sides.
It allows gatherings of up to 75 people without a permit, up from the previous limit of 25.
City marshals cannot force a person to leave a park "under the authority of any statute or ordinance relating to trespassing." A person also cannot be banned from a park unless there is evidence of unlawful activity, which must be documented by an arrest or citation.
Last year, the council passed a law making it a misdemeanor to consume alcohol in a park without a permit. Permits are available only to those who reserve a pavilion.
The new ordinance also removes what had been a controversial ban on feeding indigent people at parks. A court ruling already struck down that ban.
Part of James Gay Park, which is now a children's park between B Street and Interstate 15, will be set aside for general use.
Councilman Ricki Barlow said he wants the park, which is in his ward, to be closely monitored so that the work done to improve the park isn't wasted.
"I want to be sure we keep a close eye on that particular park," Barlow said. "What I don't want that park to become again is a homeless park."
The feeding ban grabbed a lot of attention when it was passed in 2006, making it illegal to offer food to indigent people in a park for free or for a nominal fee. Homeless advocate Gail Sacco was cited for violating the ordinance, which led to the legal case against the city.
A lot of the attention was negative, including Las Vegas' inclusion on an annual list of the "meanest" cities in America toward the homeless.
Sacco still feeds the homeless and distributes food to poor people, although last year she said she'd moved on from simply passing out food. That only treats a symptom of homelessness, she said, while not doing much to get a person off the street. And Las Vegas didn't crack the top 10 in the most recent list of "meanest" cities, which mentioned that the city had taken steps to address homelessness rather than criminalize it.
Lichtenstein said he was surprised that the settlement was reached, given that the case made it all the way to a federal appeals court.
He also noted that the ACLU and the city are close to an agreement on how to regulate demonstrations and the like at the Fremont Street Experience, another long-running legal scrap.
"With all these agreements, I feel strange," Lichtenstein said. "It's like I'm mellowing in my old age."
Contact reporter Alan Choate at achoate@reviewjournal.com or 702-229-6435.