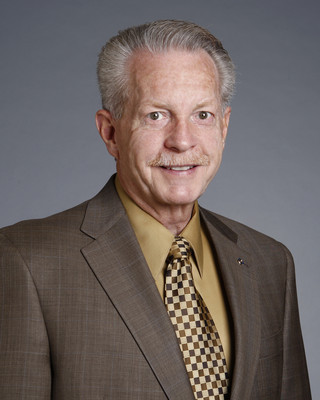 The two candidates vying for a Las Vegas City Council seat staked out clear differences on growth, water and building a new city hall Wednesday evening, while agreeing on the need to look at consolidating government services.
The Ward 4 candidacies of Stavros Anthony, a police captain and university regent, and Glenn Trowbridge, a former Clark County official who now sits on the Las Vegas Planning Commission, will go before voters on June 2. Early voting starts this weekend.
The forum's 90 attendees saw the candidates proclaim differences early on, as Anthony said Las Vegas has grown too quickly and Trowbridge said growth has been handled well.
"Growth got way out of control over the last five years," Anthony said. "We're kind of paying the price for that."
City leaders get a grade of "D," he added, saying that they should've been more prescient in seeing where the growth was coming from and the likelihood of a downturn.
"Houses are empty. Foreclosed homes are empty. They're starting to cause crimes," he said. "We need to be better at being strategic, and plan a lot better than we are today."
Trowbridge said the city has been planning well, and pointed to the neighborhood where the debate was held — Summerlin — as an example of good growth.
"The reason they moved here is because of the good job the city is doing," Trowbridge said. "They've not done a perfect job, but they've done a good job.
"We have got probably the finest park facilities. We have excellent streets. We have excellent flood control channels," as well as a highly rated fire department with good response times, he said.
When asked about the valley's water supplies, Anthony said that people need to be wary of any attempt to tack on a surcharge to pay for a massive and expensive project to transport water from Northern Nevada to the state's thirsty south.
"We need to find some other ways to pay for it than just tacking it on," he said. "We need to find some way of doing that so that the larger users are paying for it."
That system already exists, responded Trowbridge — larger users already pay more. He said governments and private users need to maximize conservation, with the city leading with water-efficient park designs and regulations that require or encourage low water use.
The Northern Nevada water project will cost residents one way or another, he added, either by direct fees or tax money that goes to the project.
"It's ultimately coming out of your pocket. Don't kid yourself," Trowbridge said.
Anthony also reiterated his opposition to plans for a new city hall, saying the project is not fiscally responsible, especially when city budgets are tight.
"Most of you, if not all of you, are against building the new city hall right now," he said. "It's a waste of money."
Trowbridge said the new city hall is part of downtown redevelopment, which is "essential" to the city's future.
Private industry will see that "the city has self-confidence," he said, and briefly tried to explain that of all the city efforts to remake downtown, "none of them raised your property taxes a penny."
Both candidates talked about consolidation among different governmental entities to save money and make it easier for people to access services.
Look at vehicle maintenance, computer services or purchasing functions, said Trowbridge.
"There's no reason a lot of those services can't be provided out of one central agency," he said.
Anthony also praised consolidation, saying that combining the city and county police agencies decades ago was "the best thing we ever did."
"Find out where we're duplicating services, put them under one roof," Anthony said. "We haven't done any of that in local government since the police department."
Contact reporter Alan Choate at achoate@reviewjournal.com or 702-229-6435.