Las Vegas Events begins studying PRCA counteroffer
January 16, 2014 - 8:59 pm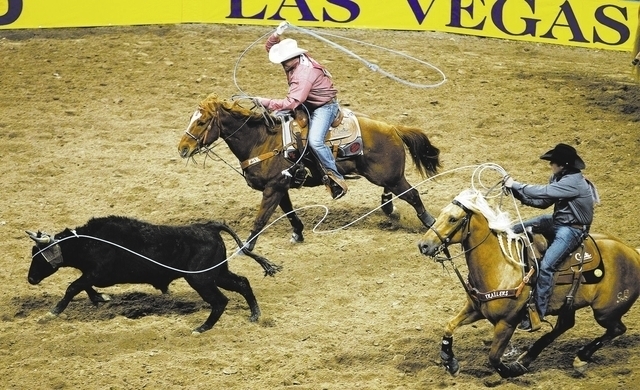 The Las Vegas Events board on Thursday began evaluating a counteroffer made by the Professional Rodeo Cowboys Association to keep the National Finals Rodeo in Las Vegas but did not make a decision on the PRCA proposal.
"Evaluation is ongoing," said Michael Mack, spokesman for Las Vegas Events, the NFR event organizer and promoter.
"No timeline has been set" on when Las Vegas Events will issue a decision on whether it will accept or reject the PRCA counteroffer, Mack said.
Las Vegas Events and the Colorado Springs, Colo.-based PRCA are in the final year of an agreement to stage the NFR — the Super Bowl of rodeos — in Las Vegas. Osceola County officials in Central Florida are also negotiating with the PRCA in hopes of luring the coveted 10-day event from Las Vegas to Kissimmee, Fla., outside Orlando.
Meanwhile, Dallas is also bidding to draw the NFR, with Texas Gov. Rick Perry recently meeting with PRCA Commissioner Karl Stressman to recruit the event, which pumps $60 million of annual spending into the Las Vegas economy. The NFR has been staged in Las Vegas for the past 29 years and sells out UNLV's Thomas and Mack Center every night.
Mack declined to comment on whether the PRCA counteroffer is comparable to that of Osceola County, which is offering nearly $10 million in prize money than Las Vegas Events.
"No details will be shared," Mack said.
Stressman could not be reached for comment on when the PRCA needs to know the Las Vegas Events decision on the counteroffer.
Business writer Alan Snel can be reached at asnel@reviewjournal.com or 702-387-5273. Follow Snel on Twitter at @BicycleManSnel.