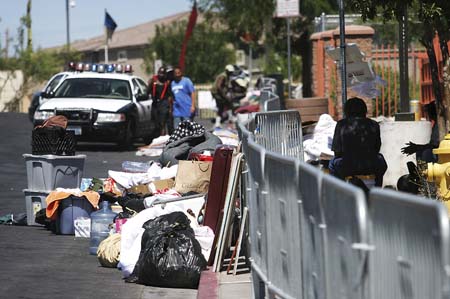 It's almost eerie, how empty the streets are these days in the downtown homeless corridor.
Just weeks ago the area around Main Street and Owens Avenue was teeming with scores of down-on-their-luck men and women who made temporary homes out of tents pitched on the sidewalks, their scant belongings stacked nearby.
All that remained of that makeshift community early this afternoon were a few holdouts, men squatting near bedding and backpacks along Foremaster Lane.
Like the neighborhood, the men were quiet, each declining to be interviewed.
Instead of tents, steel barricades lined the sidewalks.
The exodus of the homeless from the area in recent weeks was part of an intensive plan to clean up — and clean out — the corridor.
That's precisely what has been done.
But where did the homeless go?
It depends on whom you ask.
Some say many of the corridor's homeless have been steered into transitional or permanent housing. Others say they have simply taken up camp a few blocks down the road.
"It's just a shell game," said Maggie McLetchie, staff attorney with the American Civil Liberties Union of Nevada. "They're being shuffled from place to place, all over the city. Where are they supposed to go?"
The ACLU is concerned that Metropolitan Police Department officers might have violated people's rights as they shooed the homeless out of the corridor, McLetchie said.
But Deputy Police Chief Gary Schofield insisted his department is merely a member of the "Corridor of Hope Alliance," a coalition that includes nonprofits, faith-based groups and area businesses. He downplayed the department's involvement in emptying the homeless corridor.
"We just stand there while outreach occurs," he said today. "We just assist with outreach. We haven't told anybody to move out of the corridor. We don't bully anybody."
Schofield then said the department has helped "take back some of the sidewalks" and has placed barricades up and down the streets "for a variety of reasons."
"We want to make sure the sidewalks are accessible," he said. "People were selling narcotics in the tents. We're not going to allow an area just to fill up with crime."
Police have worked hand-in-hand with social workers from various organizations to steer people in the corridor to services that help them get into housing, he said.
Schofield organized the alliance this spring after tensions rose between long-established shelters in the corridor and good Samaritans who from the backs of cars and trucks distributed food, tents and other supplies directly to the homeless. Police cited some of the groups at the time.
Alliance members agreed conditions in the corridor were out of control.
"We had 350 to 400 people living in tents," Schofield said. "We had a 19-year-old pregnant girl practicing prostitution in a tent. We had drug dealing. Two people in recent months died in the tents. People needed help."
Not everybody's going to be happy with the solution the alliance came up with, he acknowledged.
But "I know we've helped people down there," he added. "I gotta think it's better down there now than it was before."
Rich Penska, coordinator for HELP of Southern Nevada's mobile crisis intervention team that works with the homeless, said he has been surprised that nearby homeless encampments haven't grown much since people in the corridor began moving. That might mean that many of them found housing, he said.
"We've seen a lot of people accepting assistance," he said. "My personal belief is that through Metro (police) telling them they can't come back, a lot of people have used their incomes to house themselves instead of purchasing narcotics."
Penska emphasized that his team did not work with police on the abatement in the homeless corridor.
The area has been "swept" of homeless people repeatedly over the years. They always come back.
"I can't count how many times," said Linda Lera-Randle El, director of the Straight from the Streets homeless outreach program. "I'm baffled by what they think is going to be accomplished" by moving people out again.
But this time will be different, mainly because members of the alliance won't let the corridor regress, Schofield said.
"Our commitment is not done," he said. "We all need to continue working on this problem."
Contact reporter Lynnette Curtis at lcurtis@reviewjournal.com or 702-383-0285.