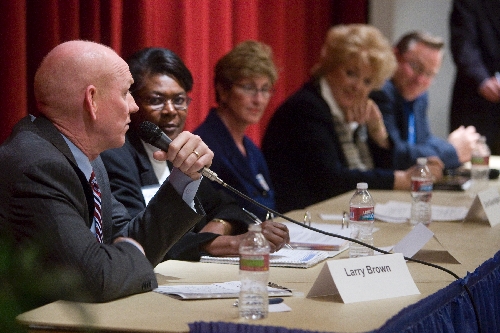 Las Vegas mayoral candidates on Tuesday night expressed nuanced views about consolidation and proposed an array of ways for Southern Nevada to become less economically dependent on gaming and construction.
Five of the 18 candidates for mayor were invited to participate in the forum, which took place at the Masonic Memorial Temple near Rancho Drive and Mesquite Avenue in one of the city's older neighborhoods.
Though the valley and the state have been rocked by high unemployment, "we've got a tremendous opportunity," said Katherine Duncan, who as a candidate has repeatedly called for energy conservation and renewable energy projects as a jobs source. "We just need to learn about the new 'green collar' economy."
Other candidates expanded on calls for medical tourism, in which medical facilities developed here would bring visitors seeking treatment.
Carolyn Goodman, wife of current Mayor Oscar Goodman, said hotels and facilities should be built near the Lou Ruvo Cleveland Clinic Center for Brain Health to make accessing it more comfortable for patients.
Chris Giunchigliani, a Clark County commissioner, proposed making University Medical Center a teaching hospital. She also proposed recruiting vendors for existing businesses to the state as well as establishing a theater district.
Las Vegas Councilman Steve Ross saw potential in recruiting biotechnology and other high-tech industries, while Clark County Commissioner Larry Brown said the valley should look to the jobs potential in building high-speed rail to California.
"We would be the pilot program for that," he said.
Local governments have progressed beyond pilot programs for consolidation, which the candidates generally supported, as long as it's accompanied by caution.
"Be careful what you ask for," Brown said. "It's not the panacea."
He and Giunchigliani mentioned services such as business licensing as a future target for consolidation because businesses now must seek a separate license for each jurisdiction in which they do business.
Brown liked the "quasi-consolidation" of the Regional Transportation Commission and the Regional Flood Control District: "They don't care about jurisdictional boundaries. They look at the region as one."
Giunchigliani added fire departments to the list of potential consolidation candidates.
"You have to look at efficiencies," she said. "It's not always savings."
Ross disagreed, saying, "If it's not going to save taxpayer money to consolidate it, then I'm not for it." He noted that Las Vegas and North Las Vegas are working on sharing services such as purchasing, which could save money.
Goodman agreed with seeking savings, but she warned that straight-out consolidation could hamper public access.
"Bigger is not better," she said. "The bigger you get, the more impersonal you get. A larger body does not necessarily solve issues and save money."
The primary election will be April 5. In races where no candidate achieves a majority, the top two finishers will compete in the general election June 7.
Contact reporter Alan Choate at achoate@reviewjournal.com or at 229-6435.