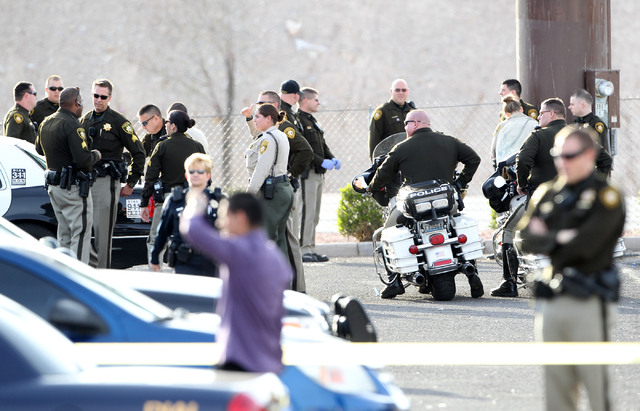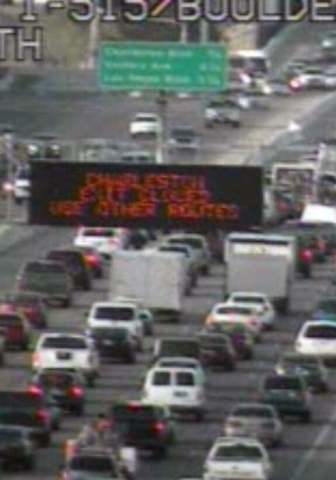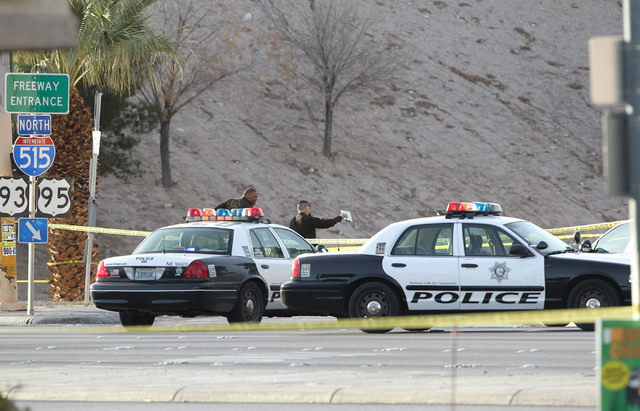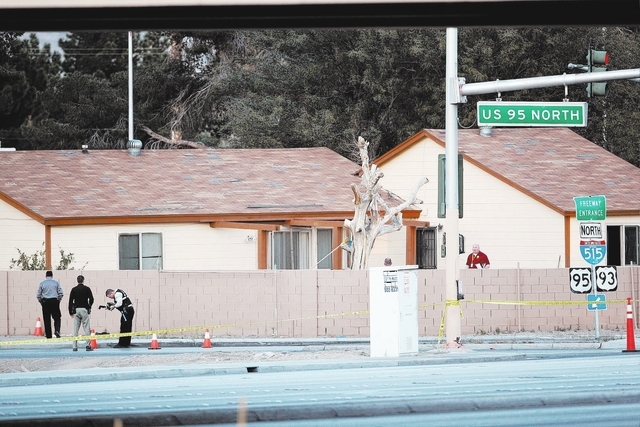 A 40-year-old Hispanic man wanted in two attempted robberies was shot by police after he pointed his gun at officers Monday afternoon, Las Vegas police said.
Officers' pursuit of the suspect and the investigation into the shooting caused several hours of traffic delays in the east valley, near Charleston Boulevard and U.S. Highway 95.
Police arrived at the 70 block of Suzy Court about 3:45 p.m. after receiving a call about a man trying to steal a vehicle, according to Metro Capt. Csaba Maczala.
When a homeowner confronted the suspect, the suspect pulled out a gun and demanded money, police said.
After exchanging words with the homeowner, the suspect left without any money and unsuccessfully attempted to rob another person across the street, Maczala said. After the second unsuccessful robbery attempt, the suspect then began waving his gun in the air and pointing it at other people when police arrived, Maczala said.
The suspect then pointed his gun at an arriving officer, causing the officer to dive out of the way, according to Maczala. The suspect then fled through a backyard and climbed over a wall before reaching the Charleston on-ramp to U.S. 95.
When responding officers commanded him to stop, the suspect pointed his gun at them.
He was shot by police in the torso, Maczala said. The man was transported to University Medical Center in critical condition.
Las Vegas police blocked off several roads in the area as they continued their investigation. U.S. 95 ramps on Charleston were closed for several hours, as was Charleston, creating gridlock on both the freeway and the surface streets.
Monday's incident was the second officer-involved shooting in the Metropolitan Police Department's jurisdiction in 2014.
Metro has not yet released information on how many officers fired on the suspect or how many times the suspect was hit. Per department policy, officials will release the names of the officers involved within 48 hours.
Contact reporter Steven Slivka at 702-383-0381 or at sslivka@reviewjournal.com.