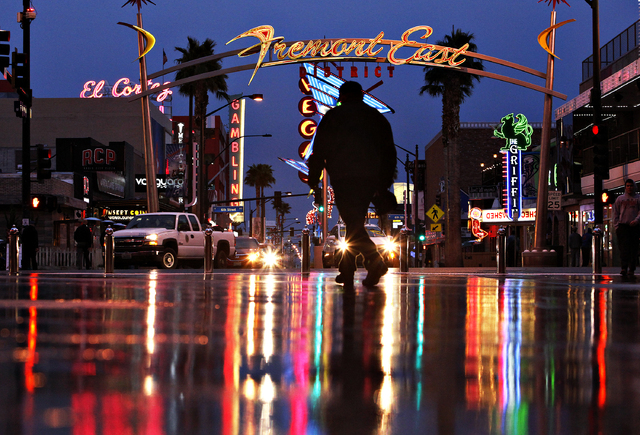 Taverns and urban lounges that sell liquor have been getting a break on their one-time origination fees as an incentive to bring businesses downtown.
Some 33 taverns and urban lounges with slots in downtown's East Fremont District and Arts District received a total of $750,000 in breaks over the past four years.
But the breaks are being reduced, courtesy of an ordinance sought by Las Vegas Councilman Bob Coffin, who represents the area. He believes it's time to ease back on the waivers and was one of five who voted for his ordinance.
Councilmen Bob Beers and Stavros Anthony voted against the fee waiver reduction, arguing that it has attracted businesses. They sought to keep the fee waivers as they were.
In the discussion about redevelopment, it boiled down to "letting it ride" versus "cutting it back," and cutting back won out.
The biggest difference is that people opening taverns in the East Fremont District will see their $20,000 origination fee waiver drop to $10,000.
In the Arts District, for the next year urban lounges with slot machines can receive a full $50,000 origination fee waiver. And for the next two years, the $20,000 origination fee for taverns will be waived entirely in the Arts District.
The bill is designed to encourage more investments in the Arts District.
Mayor Carolyn Goodman voted to approve reducing the level of waivers, but said she has concerns about the fragility of redevelopment in the East Fremont District and thought cutting back was premature. Steve Ross had the same concerns but voted for the reduction. Coffin, Ricki Barlow and Lois Tarkanian had no such reservations and said it was time to reduce the waivers.
"When you use public funds for private business, make sure they don't become a crutch," Tarkanian said.
"There's a lot of energy in the East Fremont District. We have attracted a lot of big property owners on the south end of the Strip looking to come to downtown and set up clubs," Barlow said.
"We have to transition out at some point," said Barlow, who objects to having the waivers go to major companies. "We're not eliminating them completely; they're just reduced to 50 percent as we back out of it."
Coffin kept making the point that no one showed up to oppose the bill when it was on two agendas for the Recommending Committee. "Not everybody is making money down there," Coffin said. "There may be people who jumped in who maybe shouldn't have."
Anthony wanted to keep the existing waivers in place for East Fremont and the Arts District, and wanted a two-year extension for both.
City Manager Betsy Fretwell said the East Fremont District is six blocks long and "almost completely built up." Staff felt the waivers had run their course there. Initially the staff recommended not extending the fee waivers.
"We think there probably need to be different incentives for downtown," she said. "The Arts District is still in its infancy. We all know there's work to be done there."
Nine properties using waivers are in the Arts District.
"The Arts District didn't take advantage of that tool," Fretwell said.
The rationale for phasing out one-time origination fee waivers, she said, it that "if we make these incentives longer lasting and more available, we will not have the funding in place to create new incentives."
Beers said after the meeting that for the past two years "the city has had few redevelopment successes, but the waiving of fees is the one successful generation of economic development."
Currently, 22 taverns and lounges have been completed, five are under construction, and seven are planned. One, Mamitas Mexican and Cuban Restaurant, closed in December 2012.
Meanwhile, the city's business licensing manager, Karen Duddlesten, said tavern licenses were the most popular licenses in the city. She estimated the value of the projects is more than $20 million and that in 10 years, the city will have recovered more than $21 million in revenues from them.
Contact Jane Ann Morrison at jmorrison@reviewjournal.com or 702-383-0275.