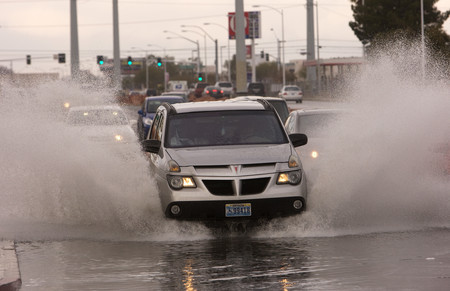 Widespread rain drenched the Las Vegas Valley on Saturday, dumping what forecasters projected could be a daily total of about an inch of rain before midnight, the National Weather Service in Las Vegas said.
The showers continued the exceptionally wet past few weeks that has made Southern Nevada at times feel more like Seattle.
Edan Lindaman, meteorologist with the weather service, said as of 8:30 p.m. Saturday, the valley received a half inch of rain on average throughout Las Vegas.
Lindaman said an additional quarter inch to three quarters of an inch of rain could fall throughout the evening.
In addition, snow capped the valley's mountains. Early reports from Mount Charleston showed 9 inches of snow accumulated between Friday and Saturday afternoons.
Slightly more than 2 inches of rainfall was reported in January. That's more than what was reported all last year, when 1.59 inches of rain was recorded at McCarran International Airport, the weather service's official monitoring station.
Super Bowl Sunday's forecast calls for a 40 percent chance of rain in the valley.
Contact reporter Antonio Planas at aplanas@reviewjournal.com or 702-383-4638.