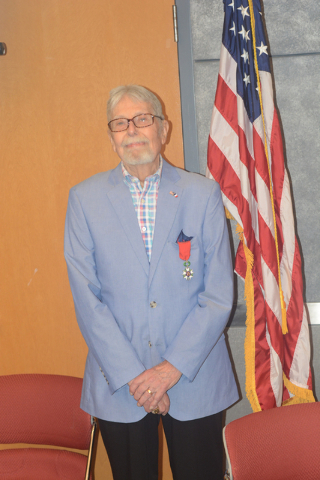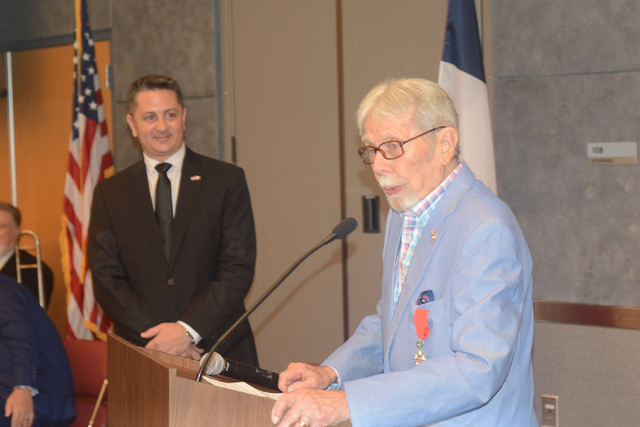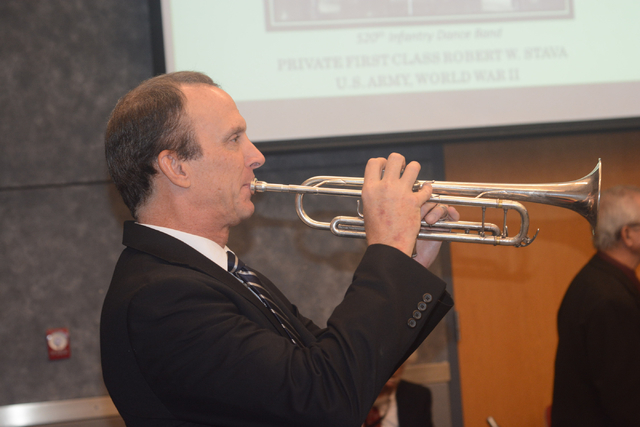 When Robert Stava took an Honor Flight alongside fellow World War II veterans to Washington, D.C., in 2014, he couldn't have imagined what would await him nearly two years later.
Honor Flight Southern Nevada Executive Director Belinda Morse encouraged the Las Vegas man to fill out an application for the rank of chevalier, or knight. The rank is the highest honor France bestows on its citizens and foreign nationals, and is given by National Order of the Legion of Honor to those who served during World War II.
Stava did fill out that form, and on Saturday, the 91-year-old Army veteran was awarded that distinction in front of his entire family in a ceremony at the National Atomic Testing Museum in Las Vegas.
"I've never been so thrilled about anything in my life since the birth of my first child," he said. "It's an honor, and it's like being in a special fraternity of people because there's not many of us left."
Stava, who was born in Lodgepole, Nebraska, was drafted into the Army Specialized Training program in 1943 after graduating high school, where he began taking college-level classes until the Army reassigned him to the 35th Infantry Division in North Carolina a few months later.
Not long after that, U.S. Army Private First Class found himself on Omaha Beach in Normandy, France, as a member of the machine gun squad.
"Battling in the Hedge Rows of Northern France, Robert barely escaped capture as he witnessed several in his unit picked off by German sniper fire," according to a news release about his award.
Fate intervened shortly afterward when he was selected to serve as a guard at the Regimental Headquarters in Fredericksburg, Va. Those orders resulted in Stava missing what became known as the Battle of the Bulge, which left 19,000 American soldiers dead.
"That was my lucky break," Stava said. "I moved into a different group until the end of the war."
Stava was discharged at the beginning of 1946 and went on to study music at the University of Iowa. A professional drummer and singer for a time, he later spent three decades teaching music to junior high and high school students in Placentia, California.
Eric Auger, the honorary consul of France for Southern Nevada, presented Stava with the National Order of the Legion of Honor award, which was established in 1802 to recognize either French citizens or foreign nationals for outstanding achievements in military or civilian life.
In 1998, the Legion of Honor medal was awarded to World War I veterans who saw service in France and since 2004, the 60th anniversary of D-Day, June 6, 1944, living World War II veterans who have shown distinguished service in France are named to the class of chevalier or knight.
"It takes great courage embarking on a journey thousands of miles from home to defend the freedom of Europe," Auger said. "It takes a tremendous amount of determination and there's no guarantee you'll come back."
Auger added that he couldn't help but think of those who didn't return to their families.
"Our freedom is a gift and we were just reminded of that recently."
Before the ceremony began, there was a moment of silence for the more than 80 people who were killed Thursday in Nice, France, when a truck driver plowed into a crowd who were gathered for Bastille Day fireworks.
Auger said he hopes Stava's military service motivates others.
"I hope this example inspires younger generations," Auger said.
Gina Lawson, Stava's daughter, traveled from Dallas to attend Saturday's ceremony.
"It was very moving, especially sitting next to a soldier who is serving now because it makes me think of my father as a young man and the bravery it takes, especially when the world is in turmoil," Lawson said. "Our freedom is not free; someone always pays for it."
Stava said he hopes the U.S. is able to sort through its problems.
"I just hope we can get it straightened out," he said. "God bless the troops, and let's bring them all home."
Contact reporter Ann Friedman at afriedman@reviewjournal.com or 702-380-4588. Follow @AnnFriedmanRJ on Twitter.