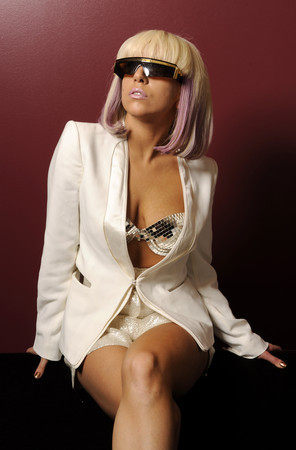 Lady Gaga's headlining debut in Las Vegas included some eleventh-hour drama.
Hours before her Thursday show at the 2,600-seat Pearl concert venue at the Palms, it was announced that rapper Kid Cudi, who was to open for the pop phenom, has left her Monster Ball Tour.
The announcement came five days after Kid Cudi punched a fan during one of his separate shows in Vancouver, B.C. It was his fifth show in three days.
His departure was described as "an early leave of absence" so he could "balance his schedule surrounding the recording of his next album and acting commitments."
Replacing him will be Semi Precious Weapons, voted Best Band in New York by readers of The Village Voice.
It's the second time in three months that Lady Gaga has had to reshuffle her tour plans. Her "Fame Kills" tour with Kanye West was canceled after he interrupted Taylor Swift's acceptance speech during the MTV's Video Music Awards.
With so much at stake on the new tour, it's likely Lady Gaga's management team didn't want to take any more chances.
Palms owner George Maloof had built a big-budget ad campaign around Lady Gaga's star power and her hit "Poker Face."
Maloof said the public reaction to the commercial has been unprecedented in the Palms' eight-year history.
"It's been off-the-charts popular," Maloof said.
THE SCENE AND HEARD
Sad news: David Morris, a fixture on the lounge piano at Piero's Italian Cuisine, died Wednesday. Morris was 66. He performed much of his career in a bowler hat and black tuxedo. Morris got his musical start in South Philadelphia when he teamed up at age 9 with childhood friend Chubby Checker, who was 12. Morris has been performing in Las Vegas for 20 years, a family friend said. …
Deal of the Day: Nevada Ballet Theatre's annual production of "The Nutcracker" opens tonight, staged for the first time in the Paris Theatre at Paris Las Vegas. Peter Anastos is the choreographer, and Alicia Jacobs, entertainment reporter for KVBC-Channel 3, emcees. Tickets start at $35. Tickets more than $45 receive a $10 discount for evening shows if the word "Drosselmeyer" is mentioned or entered as the promo code.
MAY I RECOMMEND…
Check out the wonders of CityCenter, from the towering, edgy architecture, to Cirque du Soleil's "Viva Elvis" previews, star chef restaurants, the $40 million fine arts program and luxury brand shops.
SIGHTINGS
Lady Gaga, having a lunch of protein breakfast, salad and miso soup at Simon at Palms Place on Thursday. … Old Vegas icons Steve Lawrence and Eydie Gorme, in the audience at Cirque du Soleil's "Viva Elvis" show at CityCenter's Aria on Wednesday. Also at the grand opening were Planet Hollywood's Robert Earl, Palms owner Maloof, Elaine Wynn, Nevada Senate Minority Leader Bill Raggio, R-Reno, Lt. Gov. Brian Krolicki, former Nevada attorney general and federal judge Brian Sandoval, and comedian David Brenner.
THE PUNCH LINE
"Another woman has been linked to Tiger Woods, and this one is 48 years old. Or as Tiger refers to her, 'my senior tour.'" — Conan O'Brien
Norm Clarke can be reached at (702) 383-0244 or norm@reviewjournal.com. Find additional sightings and more online at www.normclarke.com.