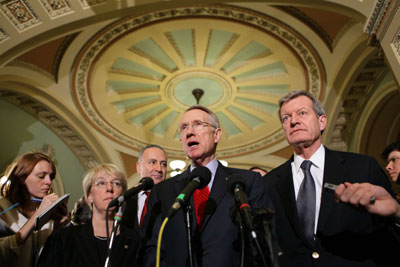 CARSON CITY — The amount of money Nevada potentially could secure for public and higher education through the federal economic stimulus plan was cut in half as part of a late compromise in the U.S. Senate, according to an analysis obtained Monday.
Nevada now probably would receive $256.1 million in state fiscal stabilization funds, down from $509.7 million as anticipated in the House of Representatives' version of the bill, which passed late last month.
Under the Senate compromise, the $79 billion education aid plan approved in the House was cut to $39 billion in an effort to secure Republican support for the stimulus package.
But state Assembly Speaker Barbara Buckley, D-Las Vegas, said she is hopeful funds will be restored when the stimulus bill goes to a House-Senate conference committee.
"The stimulus package is a moving target," she said. "With a House version and a Senate version, it is still unclear. It could change tomorrow. The bottom line is we want as many dollars as possible to help schools."
The entire Senate is expected to vote today on the bill. Then a conference committee would iron out differences between the $827 billion Senate plan and the $819 billion plan approved by the House. Sen. Harry Reid, D-Nev., wants a stimulus bill on President Barack Obama's desk by Friday.
The estimate that Nevada would receive less than under the House version of the bill was made by the Federal Funds Information Service, which analyzes legislation for a number of subscriber states.
The original Senate bill would have qualified Nevada for an estimated $509.7 million in stabilization money to shore up the state budget.
Of that total, $310.9 million could be earmarked for education and another $198.8 would have been available for general purposes that could also include school funding.
The latest Senate bill, formed in a compromise with a handful of Republicans on Friday, zeroed out general purpose grants, and reduced education grants by $7.6 billion overall.
If senators pass the new version of stimulus, a House-Senate conference committee would make the final decisions as to how much state governments could receive from the bill.
If Republicans agree not to stall, "there is no reason why we can't do this by the end of the week," Reid said. The bill cleared a procedural hurdle on Monday evening by a 61-36 vote.
Jon Summers, a spokesman for Reid, said the majority leader supports giving Nevada and other states hard hit by the recessions waivers from the requirement that they must show they are allocating funds for education at least at the totals for the 2005-06 year.
"There are a lot of numbers that are flying around right now," Summers said, adding that the conference committee could make further changes.
During a Friday conference call, Senate Minority Leader Bill Raggio, R-Reno, complained the stimulus bill would not help Nevada because the state would have to spend hundreds of millions of money he said it does not have on public and higher education in order to qualify for the grants.
Gov. Jim Gibbons, Raggio and legislative leaders of both parties sent Reid a letter Friday night requesting Nevada be given a waiver from that requirement.
"We shouldn't be looking to raise taxes to accept stimulus funds," said Assembly Minority Leader Heidi Gansert, R-Reno, on Monday.
"Why would you take the state having the most difficulty with the recession and make it harder for it?" added Gibbons' communications director, Daniel Burns.
The Senate version of the bill has a provision for the secretary of education to issue waivers for states that cannot meet the effort requirement.
Under Gibbons' proposed two-year budget, Nevada would spend $6.17 billion on all state programs, or 9.3 percent less than the $6.8 billion budget approved by lawmakers in 2007.
In his proposal, Gibbons calls for a 36 percent cut in state support for higher education. And he cuts public school spending by 2.6 percent.
Nevada's share of the overall stimulus bill has been estimated at $1.3 billion or more, although that could change.
Contact Stephens Washington Bureau Chief Steve Tetreault at stetreault@stephensmedia.com or 202-783-1760; Ed Vogel at evogel@reviewjournal.com or 775-687-3901.
TAX CREDITS FOR NEVADANS
• 941,000 Nevada taxpayers would qualify for an individual income tax credit of $500, or $1,000 for married couples, in 2009 and 2010.
• 32,000 families in the state would qualify for expanded tax credits for college education. The bill increases the maximum credit to $2,500 and makes it available for four years of schooling.
NEVADA'S UNEMPLOYED
• 40,000 jobless workers in Nevada would qualify for an extension of unemployment benefits. Payments that would normally expire on March 31 would be extended to the end of the year.
• Jobless payments would increase by $25 per week for 195,000 of the unemployed in Nevada.