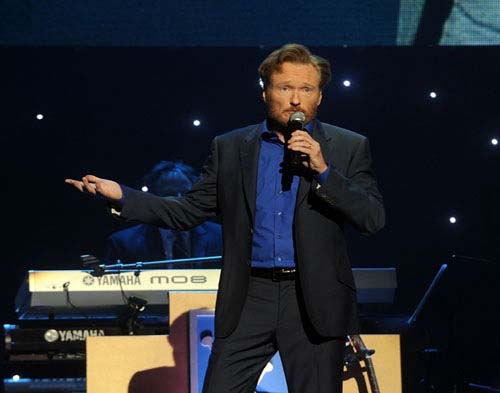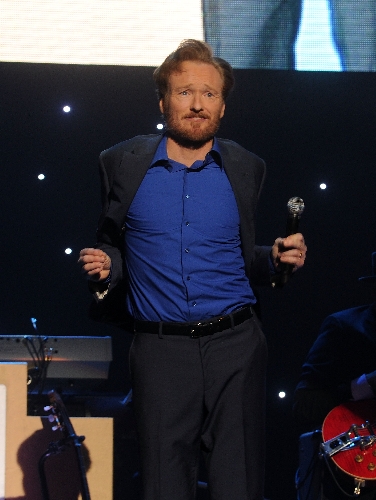 "A lot of people think the fight was the big deal this weekend," Conan O'Brien declared to his fans Saturday. But a packed house at the Palms hardly needed convincing that "the big deal is right here on this stage."
Floyd Mayweather Jr. might have found it hard to argue. It was a "Conan the Triumphant" kind of weekend all the way.
Viewers of "60 Minutes" on CBS tuned in Sunday, when the late-night host was finally allowed to speak about the network manipulations that ended his brief run on "The Tonight Show" on NBC.
Time magazine subscribers opened their mailboxes to find O'Brien on the fold-out cover as one of "The 100 Most Influential People in the World."
And Las Vegas audiences Saturday and Sunday found him running right up to them, charging offstage with his guitar and down the aisle of the Palms' concert hall.
He waded into the crowd, riffing on Ronnie Hawkins' "Forty Days" and dodging a gal who tried to tackle his leg, finally coming to a perch in an elevated row just above the sound board.
O'Brien's live tour might have started as a pity party with a self-righteous name, "The Legally Prohibited from Being Funny on Television Tour." But this sure seemed like a victory lap.
With O'Brien guaranteed a new start on TBS in November, the 80-minute Palms show on Saturday — with a second scheduled Sunday — played as a live celebration of his TV career.
O'Brien was joined by sidekick Andy Richter, the TV band and generous use of — what else? — giant video screens that included a video segment by Triumph the Insult Comic Dog.
Leg Tackler aside, the capacity crowd seemed restrained, almost sedate by the time of the 10 p.m. start. (Maybe they used to TiVo O'Brien on weeknights). Nothing that couldn't be remedied by an Elvis cover of "Polk Salad Annie," spoofing the star's Ivy League upbringing.
O'Brien sounded excited to be doing "my first show ever in Las Vegas." The opening monologue included some customized material touching on familiar Vegas comedy targets, from "real people who have their priorities straight: 99-cent pancakes and all the vodka you can drink," to "billboards for people you never heard of before."
Other gags referenced Mayor Oscar Goodman, the cost of a golf round at Wynn Las Vegas, "Spa Louie — Las Vegas' only Louie Anderson-themed salon and spa," and Luxor headliner Criss Angel, whose projected image drew some boos from the audience.
"That's his only trick, staring at you from a rectangle he makes with his two hands," O'Brien quipped. "That cost $1,200 in this town."
But the depth of some gag writer's research was revealed later, when Richter did a mock commercial for one of the city's oldest strip joints, Larry's Villa.
"It's a night you'll never forget, even with months of expensive therapy," Richter declared of the place to go "the next time your friend says, 'I'm feeling more creepy than horny.'"
Contact reporter Mike Weatherford
at mweatherford@reviewjournal.com
or 702-383-0288.