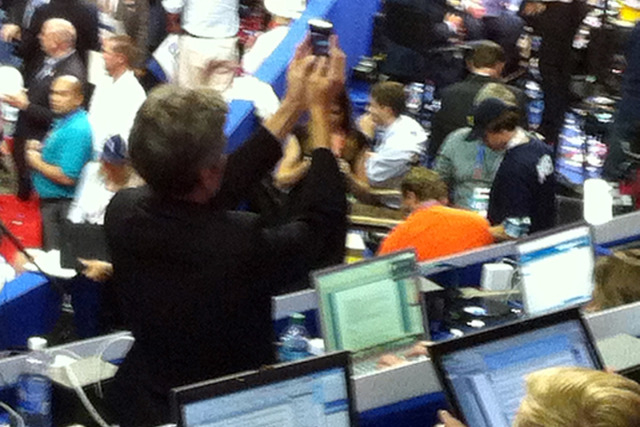 The vast pool of working reporters at the 2012 Republican National Convention toiled on deadline and the edge of a far greater sea of partisan revelers at the Tampa Convention Center.
Bent to the task, the journalists clattered away at their laptops. Amid the cacophony and the clock, the Review-Journal's Laura Myers stood and snapped cell photos of the scene. She tweeted them out and kept moving.
I keep the picture I took that night of Laura standing alone in that crowd as a reminder of her independence, energy and tenacity. Lord how that woman practiced the craft.
I'd like to tell you the Republican and Democratic conventions that year were occasions I worked with Laura, but the truth is I just followed in her wake. Most of us did. She was a genuine deadline dynamo who ran from one story to the next like a marathoner.
Laura ended her race Friday after a ferocious battle against colon cancer. She traveled the world in the name of humanity and journalism. She worked hard to bring R-J readers the facts and the truth. She was 53.
Lots of reporters work hard. Some are prolific. Laura seemed inexhaustible.
Ask her to write a story, and you might get three. Send her to drum up a 300-word sidebar, and she'd come back with a fast and factual 1,500.
She's the only former Associated Press writer I've ever known who had no ability to write short. She could squeeze a 2,000-word piece from a town board meeting. And editors would be glad to get it. Laura's stories were laden with sources, facts, background and color.
Stand still for a day, and she might write you out of the newspaper. From politics to the penitentiary system, she could cover it all.
Even in the throes of her illness Laura's energy was remarkable. She didn't just show up for work and go through the motions, which would have been more than understandable. Her body and mind were assaulted by the effects of chemotherapy and the ugly shadow of the disease. Laura worked the phones, then hit the street, following political campaigns wherever they went and returning to the office to produce reams of copy.
Indefatigable is the right word to describe her, but the fact is no one is truly inexhaustible. Cancer can wear out even the most hard-charging among us.
But it's how Laura lived her life, not how it ended, that made her special.
Friends and colleagues continue to weigh in on the Laura they knew via social media. The photos of Laura cycling and rappelling down a cliff are great.
Veteran Reno Gazette-Journal political reporter Ray Hagar knew she was special from the start of her career.
"I loved Laura," Hagar recalled on Facebook. "She was so good, so competitive and so prolific as a writer. She started out as a sports stringer in Reno, so many years ago, back when I was a sportswriter. 1980s. So I've held her in high regard for many years."
When he pauses a moment, Review-Journal designer and illustrator Mark Antonuccio has his own mental snapshot of Laura on the trail. The two were occasional hiking partners, and the day they headed out to conquer Southern Nevada's La Madre Mountain gave him insight into his friend's strength of character.
They walked side by side for several miles, but gradually Antonuccio noticed Laura pulling away. A little at first, then more.
She couldn't help herself. There was a goal and a scant trail and barely enough time in the day.
"It's a long, hard hike," he said. "It's desolate, and there's no real trail. We were hiking together for a while. That was when she first started to vocalize her pain. She couldn't sleep the night before, and she'd bend over now and then because of the pain. But because of her strength, she just kept going."
Several miles later, Antonuccio was winded and no longer could see his intrepid hiking partner. So he called her cell and admitted he was packing it in for the day.
"She said, 'OK, don't worry about it,' " he said. "She would have gone to the top had I not been there to slow her down, even with stage 4 cancer. She would have made it. There was no doubt in my mind."
Whether chasing a story or hiking in the hills, Laura Myers was impossible to catch and something to behold.
John L. Smith's column appears Sunday, Tuesday, Wednesday, Friday and Saturday. Email him at Smith@reviewjournal.com or call 702-383-0295. Find him on Twitter: @jlnevadasmith