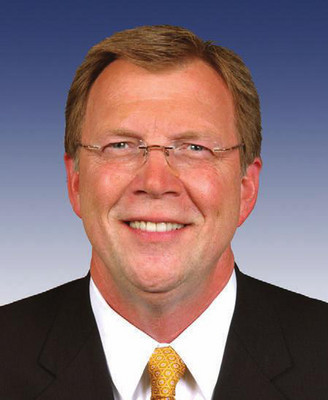 When Republican Rep. Jon Porter announced plans last week to collect receipts from constituents who are feeling the pinch of high fuel prices, this could not have been what he had in mind.
On Monday, representatives from the Nevada Democratic Party dropped by Porter's office in Henderson to deliver a poster-sized "big oil receipt" to the congressman.
Kirsten Searer, deputy executive director for the state party, said the made-for-media event was meant to highlight the $210,000 in contributions Porter has accepted from oil and gas companies since 2002.
"The problem is he's taking this money and … he's voting with the big oil companies," she said.
But Porter blames Democrats in Congress for failing to "do what's best to end dependence on foreign oil and bring relief to Southern Nevadans," spokesman Matt Leffingwell said.
Porter's plan to bring down fuel prices involves a combination of reduced consumption, expanded use of renewable energy, and increased domestic production, namely from drilling off-shore and in the Arctic National Wildlife Refuge.
To help spur congressional Democrats into action, Porter called on constituents to send him their gasoline receipts so he can take them to House Speaker Nancy Pelosi, D-Calif.
He made the request on Thursday during a video-conference town hall meeting with thousands of Nevadans, Leffingwell said.
Democratic operatives are trying to paint Porter with an oily brush as part of what many view as one of the most hotly contested congressional races in the country.
Recent polling shows the three-term incumbent in a virtual dead heat with his 3rd Congressional District Democratic challenger, state Sen. Dina Titus.
Searer, who also serves as spokeswoman for the Titus campaign, said Titus has not received any contributions from big oil companies and won't be accepting any.
Monday's event began with a small protest on the sidewalk in front of the Henderson business complex where Porter leases an office.
About 30 protesters held signs and chanted as traffic streamed past on St. Rose Parkway, south of Interstate 215. Several motorists honked and waved at the group.
The protesters had to make due with generic signs — most of them aimed at President Bush and the war in Iraq — until Searer arrived with some handwritten placards specific to the topic of the day. One read, "Porter votes for oil not us."
When the time came to deliver the fake receipt, the hand-painted foam board with Porter's picture on it was carried into the building by Searer and six others. They were trailed by a volunteer from the Democratic Party and a staff member from the Porter campaign, each carrying a small video camera to record the moment and each other.
There was nervous laughter as everyone crowded onto the same elevator.
Paul Moradkhan, Porter's deputy district director, met the group outside the congressman's office and politely accepted the "receipt."
Asked later if this was a case of one good stunt deserving another, Searer laughed and said, "I think this just shows how close a race this is going to be."
Contact reporter Henry Brean at hbrean@reviewjournal.com or 702-383-0350.