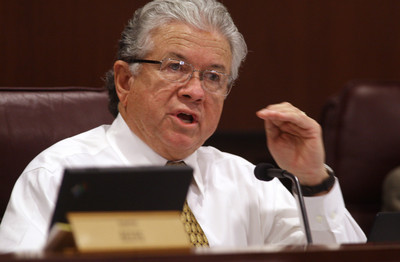 CARSON CITY — Although they complained that Gov. Jim Gibbons was stealing from the citizens of Nevada, legislators on Thursday left intact the governor's plan to cut state spending by $542 million over the next 18 months.
Democratic legislators, led by Sen. Bob Coffin, D-Las Vegas, complained that they legally were entitled to a say where cuts should have been made.
"What they are about to do is commit a crime, for Christ's sake," said Coffin, comparing the administration's plan to cut spending to someone walking into a private home and stealing a television set.
But after two hours of angry discussion, Assembly Ways and Means Chairman Morse Arberry, D-Las Vegas, moved onto another item in the day-long Legislature's Interim Finance Committee agenda.
"Keep the Lord out of this," he told Coffin.
Gibbons' budget reduction plan was presented as an information item that did not require legislative approval.
Gibbons did not attend the meeting.
Senate Majority Leader Bill Raggio, R-Reno, praised Gibbons and said the governor did talk with legislators before he made cuts. "It is not the governor's fault we have a $540 million loss of revenue," he said. "The economy created this."
Raggio complained that too much of the opposition to Gibbons and his budget cut plan was based on party politics.
"Too much of this is carryover from the last election," he said. "In the old days, we had elections and then worked together."
Coffin tried to persuade his colleagues to sue Gibbons for breaking the law by not allowing legislators the right to review and consent to budget cuts.
Raggio said legislative lawyers have determined that Gibbons had the constitutional right to make cuts on his own.
"There is no violation of law here," Raggio said.
He added that 26 states face similar economic problems, including California, which must cut its spending by 10 percent.
Arberry defended Coffin's position and said legislators approved the budget just eight months ago after many hours of hearings. Now they are being asked to rubber stamp Gibbons' cuts without any discussion.
"Who would have thought then of this scenario, with the Nevada economy the worst we have seen?" Arberry said.
Assembly Speaker Barbara Buckley, D-Las Vegas, supported Coffin's position that legislators have the legal authority to review budget reductions, but she cautioned against suing the governor.
"You never know what a court will do," Buckley said.
Legislators should consider a bill next year that would make it clear that governors cannot cut budgets without legislators' consent, she said.
In an interview, Buckley said she was confident that if Gibbons and legislators would have worked together on budget cuts, they would have avoided reducing public education spending by $92 million.
She said Gibbons should have postponed more than $21 million in building construction projects and used that money to spare education from cuts.
"Cutting education will lead to further mediocrity in education (achievement)," Buckley said.
State Budget Director Andrew Clinger and Gibbons' legal counsel, John Hicks, began the hearing by explaining how the recession has worsened and state tax revenue continues to fall below projections.
Clinger said Gibbons thought he would have to cut spending by $285 million when he first mentioned the need for reductions in November.
But even gaming revenue has been falling short of expectations, Clinger said.
He put the shortfall at $542 million, $25 million more than estimates made Jan. 11, when Gibbons announced where he would make cuts.
Even with the cuts, state spending for the current two-year budget cycle is still nearly $700 million more than during the previous budget cycle.
Gibbons has ordered all state agencies to cut their spending by 4.5 percent, a combined $283 million.
He is saving an additional $50 million by delaying construction projects and one-shot appropriations.
He proposed making up the remainder of the shortfall by taking $232 million out of the state's $267 million rainy day fund. Gibbons will ask for the appropriation when the Legislature goes into session in February 2009.
"When you have to make reductions, people aren't going to be happy," Hicks said. "It is inevitable."
He said Gibbons did listen to legislators. When the governor first contemplated cuts, he did not plan to raid the rainy day fund or stop construction projects, Hicks said.
But he made the decisions after receiving input from legislators, Hicks said.
Contact reporter Ed Vogel at evogel@reviewjournal.com or (775) 687-3901.
ANTI-TERRORISM OFFICE GETS FUNDING
CARSON CITY — Legislators approved spending $344,000 Thursday to set up an anti-terrorism office sought by Gov. Jim Gibbons.
The Interim Finance Commission backed spending the money to hire staff for a "fusion center" in Carson City. Similar centers operate in Clark and Washoe counties.
The intelligence-gathering center will collect and analyze information from the state's 15 rural counties. Some legislators had questioned the need for a rural center, but they were told Thursday that the sheriffs in Washoe and Clark counties back creation of the third center.
Initial plans called for spending $651,000 on the new center, but that was reduced because of the state's budget crisis.
REVIEW-JOURNAL