Leone crosses over from porn in India
January 17, 2012 - 7:50 am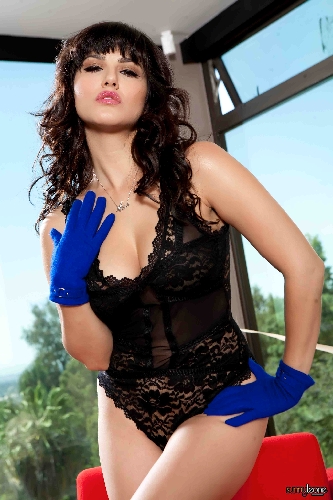 When the Adult Entertainment Expo begins Thursday at the Hard Rock Hotel, one of the most sought-after stars will be Sunny Leone.
Leone will star in only a few new films in 2012, but her beauty is so revered, she will co-host Saturday's porn awards at the hotel.
She is also crossing over into the mainstream — in India.
Leone was born in Ontario, Canada, and raised by parents from Punjabi, India.
Over the winter, she co-starred in an Indian TV show called "Bigg Boss" (akin to "Big Brother"), where she lived with quarrelsome strangers on camera for a few months.
Since the popular "Bigg Boss" aired seven nights a week in a land of a billion people, Leone became a sensation overnight.
"I couldn't walk the streets or go to the store or take a taxi," Leone tells me. "I had every single person in the hotel coming to the door, saying, 'Can I have your picture, can I have your signature?'
"I had teenagers and young kids — 4-year-olds and 5-year-olds — coming up to me and asking me for pictures and saying, 'We cried when you left the show.' "
Leone — the winner of Best All-Girl Group Sex Scene at the 2010 Adult Video News Awards — says finding fame in India was the strangest experience of her life.
While there, she kept thinking, "I don't understand why people are going crazy-bonkers over me!"
It's not like India is a Xanadu of openly famous adult actresses. She was the first one on a TV show there, she was told.
"They took a big chance to put someone of my background on television," she says. "They had their show threatened to be shut down because of me."
But Leone, 30, feels times are changing.
"In India, my generation and the next generation are ready for that change of being able to be more socially free," she says.
Now, thanks to "Bigg Boss," she is on the verge of a career in Bollywood films. She has all but signed on the dotted line to shoot a mainstream Bollywood film for several months this year.
Leone — a former Jiffy Lube worker and Penthouse Pet of the Year — doesn't want to move to India for Bollywood. But you never know, she says.
But no matter what, she vows to continue running her own adult company featuring other performers and herself.
"That's what got me where I am today. And most people in India don't care," she says and laughs. "It's the weirdest thing that I've ever been a part of, in that they don't mind."
In addition to the Hard Rock's Expo and AVN Awards show, Leone makes personal appearances Wednesday and Friday at Crazy Horse III, and Thursday at Haze nightclub with her awards show co-host Bree Olson.
Nightclubs will be overtaken with paid appearances by porn stars this week — Wednesday at Chateau; Thursday at Haze, Tryst and Gallery; Friday at Chateau, Gallery, Vanity and RPM; and Saturday at Gallery, Haze, Vanity, Chateau, Pure, Tabu, and Posh at Crazy Horse III.
SIGHTINGS
Joey Fatone jumped on stage to perform with Steel Panther Saturday at Green Valley Ranch. … Bow Wow performed Sunday at the Bellagio's Bank nightclub after performing Saturday at Paris club Chateau. … Lisa Lampanelli ate at Simon at Palm's Place on Saturday. … Karina Smirnoff partied at Planet Hollywood club Gallery on Saturday. … And Dita Von Teese looked incredible performing burlesque Saturday at club Hyde at Bellagio.
Doug Elfman's column appears Tuesdays, Thursdays and Fridays. Email him at delfman@reviewjournal.com. He blogs at reviewjournal.com/elfman.