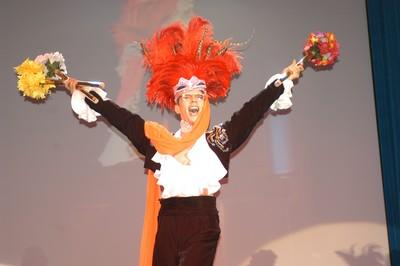 It was only a matter of time before the rest of the world discovered Leonid the Magnificent.
His life has changed dramatically since he became something of a fixture on NBC's "America's Got Talent."
Everywhere he goes in New York City, he's recognized, and he's been flown to Greece as a guest star on "Greece Has Talent" and other international cities for appearances.
He's back for the second season of "Got Talent," but the most exciting news, he said, is an offer to do a reality show. He's staying quiet about that until he gets more details.
The tall Russian who honed his outrageous sword-balancing, hula hoop-shaking act in the drag clubs in Miami returns to the "Madhouse" at the Hard Rock Hotel for tonight's grand opening.
Jeff Beacher, who created the "Madhouse" five years ago in New York City, didn't see a showstopper the first time he saw Leonid at an audition for a pre-Grammys show at Madison Square Garden.
But his partner did. "He said, 'This is the guy who will change the history'" of the "Madhouse."
Beacher wasn't convinced. Then he heard some bizarre music, he heard a roar, and he turned around to see a naked Leonid on stage.
Leonid, who left the "Madhouse" a year ago to compete on "Got Talent," will be joining Mini Britney and Kombe, the acrobatic troupe made up of little people.
REST OF THE STORY
Internet blogger and self-appointed grammar cop Esther Lynn is on the warpath again.
Not surprisingly, she's taking issue with my recent item about her feud with fellow entertainment writer Gaming Today columnist Monti Rock III over foul language he allegedly directed at her.
Not surprisingly, I say, because I've been on the receiving end of her vitriolic e-mail for many years, mostly when she spots a misspelling. When she misspelled Clint Holmes as Homes several months back, I resisted the temptation to respond.
But this time her issue is accuracy, and a response is in order.
In this week's column, under her nom de plume Claire Voyant, she says most of what I reported "was absolutely false and completely opposite of what was said." She doesn't offer specifics.
In a chat with my editor, she was angry that I said she went to police about getting a restraining order against Rock. I did not write that. I wrote that she "has gone to Clark County authorities" about seeking a restraining order.
I based that on her e-mail to an R-J colleague of mine, in which she wrote, "I am not sure what to do next, although I did contact justice court today about getting a restraining order to keep this maniac from coming too close to me.
Some background here: About five years ago, when I was struggling with health issues and too much medication, I was getting a steady stream of nasty e-mails with grammatical critiques from Esther. Then, out of the blue, came a very sweet note, with a request: Would I run a nice item on one of her entertainment clients?
I didn't, and I suspect that's part of the underlying issue here.
But she is right about one thing: I mistakenly stated recently that John Argent, Roseanne Barr's new boyfriend and keyboardist, was previously known as Rod Argent, keyboardist for the 1960s band The Zombies.
I misread a Roseanne Internet interview in which she said her boyfriend named himself after Rod Argent.
SIGHTINGS
Actor Colin Farrell and gal pal at "Love" (Mirage) on Friday. … Gennifer Flowers, in the crowd Thursday at the new Just Jazz club, 1000 E. Sahara. … Rapper/reality show star Flavor Flav, in the audience Thursday at Wayne Brady's show at The Venetian.
HOT SPOTS, COOL STUFF
944 Magazine and the Rainbow Bar & Grill are celebrating their second anniversaries with separate weekend-long parties. Much of the 944 bash is poolside at the Hard Rock Hotel.
THE PUNCH LINE
"Paris says she's never going to drink and drive again. That'll be something to see — Paris all tipsy riding the bus." — David Letterman
Norm Clarke can be reached at 383-0244 or norm@reviewjournal.com. Find additional sightings and more online at www.normclarke.com.
NORM CLARKEMORE COLUMNS