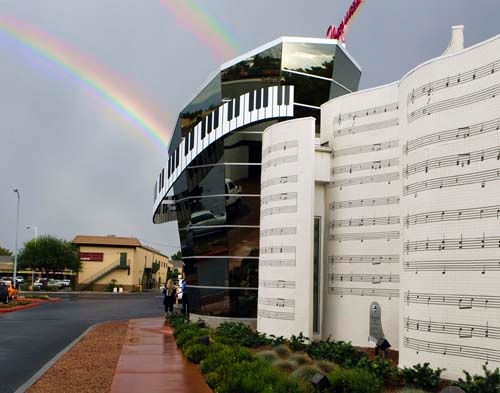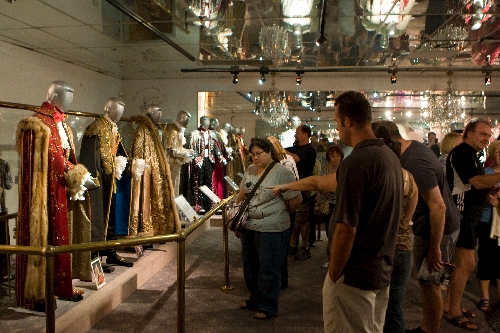 Last year, a teacher walked into the Liberace Museum and asked if she could play "the Gershwin piano" — one of three pianos Gershwin owned when he wrote "Rhapsody in Blue."
The museum said OK. The teacher had to sign a release, asserting she was classically trained and could play a whole song. She had to wash her hands. Then the Gershwin piano was all hers.
"Tears were just pouring down her face," recalls museum volunteer Sol Feivish. "People heard the music and started to applaud."
That piano — a gift to Liberace from Shecky Greene's second ex-wife — is now locked away with everything else. On Sunday, the museum closed in financial ruin.
And yet for the past month, the museum has been packed with six times as many customers as usual, ever since news broke internationally of the museum's oncoming death. It was 32.
Left out of work are 23 part-time and full-time employees, plus volunteers like Brenda Dupont, who started at the museum in August.
"My son passed away a year and a half ago, and I had to get out of the house," Dupont said.
"I thought, 'Liberace could be a lot of fun.' And it was!"
In the museum's costume room, Dupont (who knew Liberace from Merv Griffin and Johnny Carson) was fond of watching wives convince husbands to put on a heavy Liberace cape for photos.
"Men would try it on," Dupont said with a smile. "Women didn't want to."
Also out of work is Tanya Combs, who started in 2000, when her kids were around driving age and often gone, when her pilot-husband at the time was always flying off.
Plus, Combs, a former teacher, was battling breast cancer and wanted to get out and do something.
So she started as a tour guide.
Her husband objected, "I can't believe you're going to take that job for $7 an hour."
Her son griped, "You have a job. You're a housewife!"
But 10 years later, Combs exited as director of operations.
"This job saved my life," Combs said Sunday on a lunch break with peers in a back room. "This is the friendliest group of people I've ever worked with."
"We help each other," employee Karen Dolata said of co-workers. "We adopt each other's cats. We're family."
Dolata greatly enjoyed her job and cherished museum performers Philip Fortenberry and Keith Thompson.
"I couldn't love them more if they were my own children," Dolata said.
News of the closing led to museum worker Howard Shapiro making it into news pages and CNN.
"It's nice, but I'm not getting residuals," Shapiro joked, then considered his next career move: "I may go back into acting."
There's no telling if the museum will be resurrected here or rebuilt elsewhere. It has fielded calls from moneyed interests around Vegas and other cities, but so far to no avail.
"Where's Steve Wynn when you need him?" said Feivish, who volunteered for nine years.
Some recent tourists went souvenir crazy.
One customer tried to rip the hood ornament off of one of Liberace's cars.
Others tried to pull off the little mirrors affixed all over his Rolls-Royce.
A London tourist was more welcomed: Philip Balian saw Liberace on British TV when he was 4. Now in his 40s, he flew in to see the museum since doing so was on his bucket list.
A pianist, he was allowed to play the rhinestone Baldwin in the middle of the costume room, for three days.
On Saturday, he performed from opening to closing, doing three songs every half hour, with a bit of Liberace swagger, chatting with the crowd.
"If you gave me a million dollars, I couldn't be happier," he told staffers (according to volunteer Jerry Badgers).
On Sunday, in a corner by the entrance stood the impeccably dressed and composed Anna Nateece, who put together furs for Liberace (and for Liza Minelli, Mike Tyson, plus Sharon Stone in "Casino").
She answered customer questions. She remembered seeing Liberace on his deathbed in Palm Springs in 1987.
"He looked well in bed," she said. "His face looked beautiful. … I spoke to him. … By the time I got to the airport in Las Vegas, he was gone.
"He was the best friend I ever had." Nateece said. "Being here, I feel his presence. To know I won't have this anymore — hurts. It hurts."
At the end, at 4 p.m., the museum closed and was instantaneously shaken by thunder in a freak desert rainstorm.
Tour guide Barbara Pangacian walked outside and saw what we all saw: A full double rainbow stretching left to right, an archway in the sky.
"Wow," Pangacian said. "Liberace did that. … He gave us a good send-off."
Pangacian walked into the restaurant next door, Liberace's Carluccio's Tivoli Gardens Restaurant, which will stay open. She sat at the bar and ordered a gin and tonic.
"I'm not crying," she insisted stoically.
She grasped her handbag and quietly closed it, and opened it, and closed it, and opened it, and closed it shut.
Doug Elfman's column appears on Sundays, Mondays, Tuesdays and Fridays. E-mail delfman@reviewjournal. com. He also blogs at reviewjournal.com/elfman.