Libertarian candidate for president makes pitch to Las Vegas
September 25, 2012 - 4:58 pm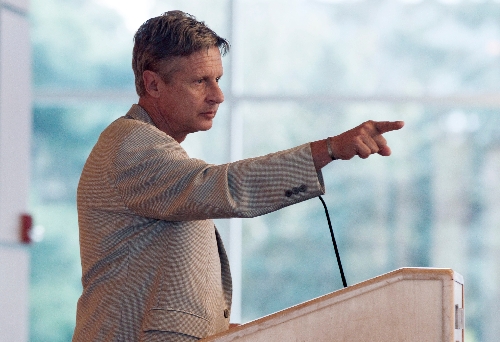 Gary Johnson, the Libertarian presidential candidate, has a new sales pitch for voters that he is bringing to a public forum today at the University of Nevada, Las Vegas.
"I want to make a pitch to everybody to waste their votes on me," Johnson said Tuesday in an interview. "And if everybody wastes their votes on me, I'm the next president of the United States, and we'll actually address some problems."
Johnson, a former two-term governor of New Mexico and a former Republican, doesn't have a lot of good things to say about Democratic President Barack Obama or GOP challenger Mitt Romney.
If either man wins the Nov. 6 election, Johnson said, runaway federal spending will continue, budget deficits and debt will rise, American liberties will erode, and the U.S. military will fight more wars, possibly with Iran.
"I am going to offer a prediction that we will find ourselves with a heightened police state and our military intervention is not going to cease," Johnson said. "Shoot first, ask questions later."
If Johnson sounds frustrated, he is. While Obama and Romney are preparing for their first debate in Denver on Oct. 3, the Libertarian candidate has sued the Presidential Debate Commission so he can take the stage, too. That is not likely to happen because the panel set rules to require a candidate to get at least 15 percent in national polls, and Johnson has been polling in the single digits, when pollsters ask about his prospects at all.
So Johnson has been touring university campuses to gin up some excitement and support for his long-shot bid. He said he might record his own answers to the debate questions asked of Obama and Romney. "I don't see any difference between Obama and Romney," he said. "I would vote for the Libertarian nominee."
Johnson is scheduled to speak from 6 to 8 p.m. at UNLV's Student Union Courtyard, 4505 South Maryland Parkway. The event is open to the public.
Contact Laura Myers at lmyers@reviewjournal.com or 702-387-2919. Follow @lmyerslvrj on Twitter.