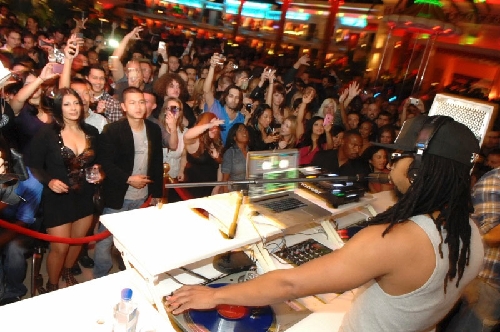 Vegas is being invaded by Lil people!
Wynn's club Surrender announced Monday Lil Jon will serve as DJ there monthly starting Nov. 24.
Lil Jon couldn't be reached for comment Monday. He was in New York filming. He's in Donald Trump's next "Celebrity Apprentice."
Meanwhile, Lil Wayne, after getting out of jail late last week, headed to the Hard Rock Hotel on Saturday to rap "Miss Me" with Drake.
"Yo Vegas, I'm back" from "vacation," Lil Wayne told the crowd after they chanted his nickname "Weezy" at him. (Jason Giambi and his wife were there.)
"I swear to God, there ain't nothing, nothing, nothing like home. Thank you," Lil Wayne said — then bolted.
On Sunday, Lil Wayne showed up at the same strip club that criminal rapper T.I. calls (according to the strip club) his Miami "office."
Lil Wayne started the weekend in New Orleans on Friday, after being released from Rikers Island in New York, where he was residing when his album "I Am Not a Human Being" hit No. 1 on the charts.
He served eight months for gun possession in New York. He's still on three months' probation in Arizona on a drug charge . TMZ says Lil Wayne, despite being interested in "bottles in the club," can't imbibe while on probation.
out of 'view'
It doesn't look like "The View" is coming back to Vegas anytime soon. But the show could come back if only a hotel would pony up for expenses.
Whoopi Goldberg tells me the chatfest would "probably" return (after filming at Caesars two years ago) if a hotel made an offer to offset costs.
"It would have to be somebody who wanted to have us there. And we would love to do it, because we love to travel.
"But as it stands now, because of all the (budget) cuts, it doesn't look like we'll be moving," she says.
Whoopi says she doesn't know how much hotels must offer. But she made a wild guess: "I think it's probably half-and-half in rooms and stuff."
Whoopi herself will be here Friday to perform stand-up at Treasure Island.
WHERE ARE MY COOKIES?!
The National Enquirer claims Kourtney Kardashian and Scott Disick plan to elope in Vegas. I love the Enquirer. It also has a crazy spread about Marie Osmond's ex-husband (which he denies), and a claim that Tom Cruise and Katie Holmes' kid, Suri, is an "out of control" "mini-fashionista" 4-year-old "diva" on Katie's movie set: "She was soon demanding cookies from crew members — and if she wasn't granted her request right away, she'd throw a fit." Ha-ha! She's 4! …
When Brandi Glanville was at Tao on Saturday night, she was not drinking. Glanville (left by ex Eddie Cibrian for LeAnn Rimes) was busted on a DUI charge a few weeks ago in Beverly Hills, after which she took "full responsibility" for her "bad choice," in a Twitter post. …
Thirty Seconds to Mars are added to Vegas' New Year's Eve list. They're playing The Pearl. Tickets go on sale Saturday ($75-$125). …
Eva Longoria Parker, Larry King, Sammy Hagar and chefs Todd English and Shawn McClain will head up Nevada Cancer Institute's "Rock for the Cure" fundraiser Thursday at Aria.
SIGHTINGS
Jermaine Dupri ate vegetarian at Lavo on Sunday night, then took friends upstairs to the club for champagne and vodka-Red Bull. … Roger Clemens ate Saturday at Strip House. … Bill Goldberg took friends to eat at Mr. Lucky's on Sunday. … Patrick Willis chowed at Cabo Wabo Cantina on Saturday. … Vienna Girardi took friends to Cabo Wabo on Sunday.
Doug Elfman's column appears Sundays, Mondays, Tuesdays and Fridays. E-mail him at delfman@reviewjournal.com. He blogs at reviewjournal.com/elfman.