Local man helped plan operation to rescue POWs from North Vietnam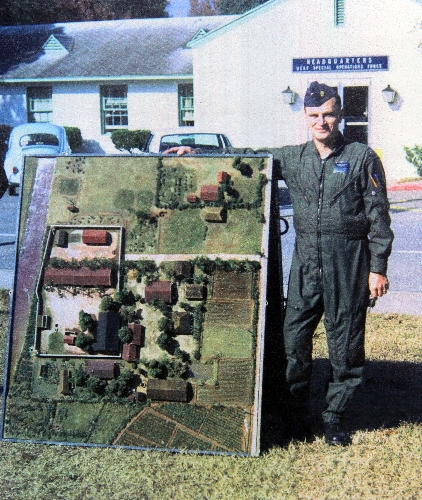 When John Gargus helped plan the historic but un­successful raid to rescue U.S. prisoners of war from the infamous Son Tay compound in North Vietnam, radar-evading warplanes and stealth helicopters weren't among his options.
Forty-one years ago, aircraft that delivered Special Forces soldiers to reach their target deep behind enemy lines had to fly below the radar.
Equipment such as infrared imagery and night-vision goggles were only fledgling technologies. The first forward-looking infrared instruments were used on escort planes in the Son Tay raid.
"We had six night-vision goggles. We borrowed those from Fort Belvoir (Virginia), where they were under development. It was a top-secret project," said Gargus, a retired Air Force colonel who lives in Henderson and wrote a book about the Son Tay raid.
Gargus , 76, said he was pleasantly amazed by the preparations that were made and technology that was used in the raid by Navy SEALs to kill al-Qaida leader Osama bin Laden in the early morning hours of May 2 at his walled compound in Abbottabad, Pakistan .
"We did not have 'boots on the ground.' The difference was we were at war with that country. Pakistan is a friendly country," he said in an interview last week.
"On Osama bin Laden, they had around-the-clock surveillance. They knew somebody was there. The only thing was to be as silent as you could be so when you're coming in you're not detected."
Although Pentagon officials have been mum about many of the intricate details of the bin Laden raid, the Navy commandos reportedly were swiftly shuttled to and from the compound by what appeared to be modified MH-60 Black Hawk helicopters with special radar-evading coatings and body designs and noise-reduction features.
In addition, military observers have said there was constant, technological "boots-on-the-ground" monitoring that Gargus mentioned.
This included synchronized satellites and perhaps at least one stealth unmanned aerial system, surmised by one expert, John Pike, director of globalsecurity.org, to be the "Beast of Kandahar," or RQ-170 Sentinel, that provided valuable surveillance and reconnaissance for raid planners.
In the case of the Son Tay raid, which was launched on Nov. 20, 1970, under the code-name Operation Kingpin, helicopters escorted by a modified MC-130 Combat Talon flew at a low altitude using TFR, short for "terrain-following radar."
"We sneaked through," he said .
"We could fly at a low level. We knew there was a valley where (enemy) radar could paint us. If it stopped rotating, we would know we were detected."
Unlike the bin Laden raid, which is thought to involve only a handful of Special Operations helicopters and a couple dozen troops, the Son Tay raid deployed 116 aircraft.
decoys attract attention
Of those, 59 were warplanes that launched from aircraft carriers in the Tonkin Gulf. They served as decoys and stayed out of range of anti-aircraft artillery and surface-to-air missiles that the North Vietnamese fired at them.
"They were dropping flares and flying around so they completely confused air defenses in the east," said Gargus, one of the raid's four air operations planners. "So all radar would focus toward the east while we entered from the west."
The 57 Air Force planes for the raid included a pair of MC-130s, five HH-53 Super Jolly Green Giant helicopters, one HH-3 Jolly Green that crash-landed as planned in the compound, A-1E Sky­raider attack planes, F-4 Phantom fighter jets to shoot down any MiG fighters, a dozen air-refueling tankers, and five F-105 Thunderchiefs for bombing missile sites.
"When we went in, we were un­detected," said Gargus, who was lead navigator in the MC-130 that escorted the Skyraiders.
Prisoners moved
"The surprise was the camp did not have any prisoners. The prisoners had been moved in July. I believe that the North Vietnamese came to the same conclusion we did, that Son Tay was the most isolated prisoner camp and most susceptible to a rescue attempt."
Nevertheless, he noted, "We didn't lose a man."
The only injuries, as a result of the helicopter's hard landing, was that one Green Beret was shot in the hip and the flight engineer suffered a broken ankle.
Gargus estimates, based on after-action reports, that Special Forces soldiers killed about 50 enemy troops who were maintaining the compound and an unknown number of others at a nearby compound that was mistakenly invaded.
Like the bin Laden raid, the Son Tay raid to rescue more than 65 POWs entailed months of planning and training. High-altitude photographs taken by SR-71 Blackbird reconnaissance jets enabled the construction of a model of the Son Tay compound, dubbed Barbara, and the later reconstruction of it for Green Beret MC-130 crews to train in Florida at Eglin Air Force Base's C-2 range.
They practiced everything from landing and assault tactics to rescuing soldiers and downed pilots using Skyhook, the recovery system invented by Robert Edison Fulton in the 1950s for the Central Intelligence Agency.
Skyhook was a harness contraption with a helium-filled balloon that sends up a line to be intercepted by a C-130, which in turn reels in the person being rescued in midair to the back of the plane.
Planning and training for Operation Kingpin were conducted under the respective code names, Polar Circle and Ivory Coast.
"We had to keep a very tight secret," Gargus said. "There were so many double agents in Saigon and the military establishment of South Vietnam."
Preparations for the raid were kept so secret that many higher echelon commanders weren't told about it until the last minute .
"Once we started training in Florida, we stopped asking questions about Son Tay. We didn't want to arouse suspicions in intelligence."
As a consequence, intelligence about prisoners being relocated from Son Tay to another site might have fallen through the cracks.
Real-time information
"Today this wouldn't have happened," he said. "We did not have the (near real- time) aerial photography we have today. We now have drones that give you continuous feeds.
"What we had in those days was the Buffalo Hunter program. These were drones (with cameras) launched from the Gulf of Tonkin. They would fly so many minutes in one direction, fly back to Tonkin, shut down the engines, deploy parachutes, and while they were drifting down helicopters would pick them up."
Then the film had to be developed. "By the time you'd get the pictures it would be three days."
Two months before the raid, photo­graphs taken by SR-71 Blackbirds showed reduced activity at Son Tay .
"The ground was overgrown with grass. So here we are training in Florida thinking they may have moved the prisoners."
The raid was conducted, however, because Blackbird photos taken later showed new activity, and infrared photography indicated latrines were being used.
Gargus said he thinks Navy SEALs went into bin Laden's compound knowing they would kill the terrorist leader.
In addition, Gargus said the SEALs knew what they were doing "to shoot him in the head. You don't put a bullet in somebody's head unless that's what you're intending to do. And, I'm glad they did it that way and glad they buried him at sea."
Contact reporter Keith Rogers at krogers@reviewjournal.com or 702-383-0308.