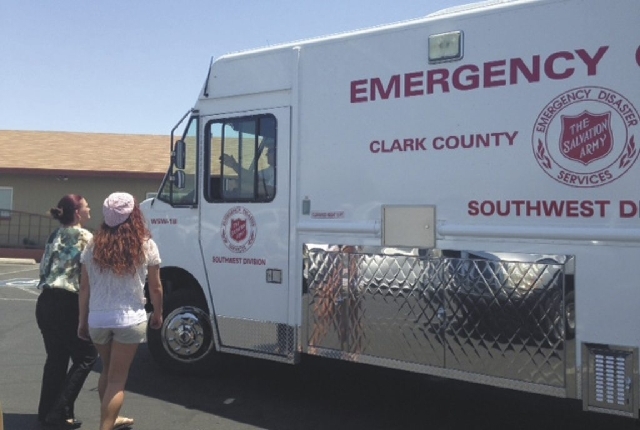 A group of local men formed a circle and said a prayer Tuesday afternoon before departing to Prescott, Ariz., to help feed evacuees and first responders battling the deadly wildfires that have claimed the lives of 19 firefighters.
The Salvation Army Southern Nevada Emergency Disaster Team Mobile Kitchen unit was called in to help after two Arizona units — one from Yuma and another from Flagstaff — broke down because of mechanical problems, said Maj. Will Cobb, with the Salvation Army Henderson Corps. The unit departed the Henderson office shortly after 1 p.m.
The mobile unit previously has gone to Arizona, Colorado and Utah.
"The mobile belongs to Clark County, but when it's needed elsewhere, we deploy it from here," Cobb said.
The 19 firefighters, who were part of an elite crew, died Sunday. The wildfires northwest of Phoenix have also destroyed about 200 homes.
The efforts to deploy the kitchen unit to Prescott from Henderson were coordinated by the Salvation Army's emergency disaster chief in Phoenix. The unit is typically deployed for two weeks, Cobb said.
The crew consisted of one employee, Alan Robinson, and three volunteers, he said.
One of the volunteers, Kevin Whalen, is an experienced emergency disaster service team member. This is Whalen's fourth time being deployed to assist in a disaster. He said his heart grieves for those who have been affected by the fires and for those who have lost family members.
"As there is a loss, there is a need," he said.
The mobile kitchen has the capability to serve about 1,200 meals a day, Whalen said. The $270,000 mobile kitchen unit is equipped with six burners, a flat grill, two ovens, three sinks, two microwaves and has 300-cup coffee maker.
First responders and those who have lost their homes are not able to go somewhere to get food, so the unit comes to them, Whalen said. "We go right into the front lines."
This is Jim Reid's first deployment. He's also been tasked with providing emotional and spiritual support upon his arrival.
"I'm excited," the soon-to-be 84-year-old said. "I can't wait to get there."
The third volunteer being deployed is Ron Rickmann.
Kelsey Whalen hugged her father before he got on the mobile unit and drove away.
"He loves doing this," the 19-year-old said. "He loves helping people."
The Associated Press contributed to this report.
Contact Yesenia Amaro at yamaro@reviewjournal.com or 702-383-0440.
RELATED STORY:
Powerful winds are expected at the site of the Arizona wildfire that already claimed the lives of 19 highly-trained firefighters.