Lombardo wins Clark County sheriff's race
November 5, 2014 - 12:58 am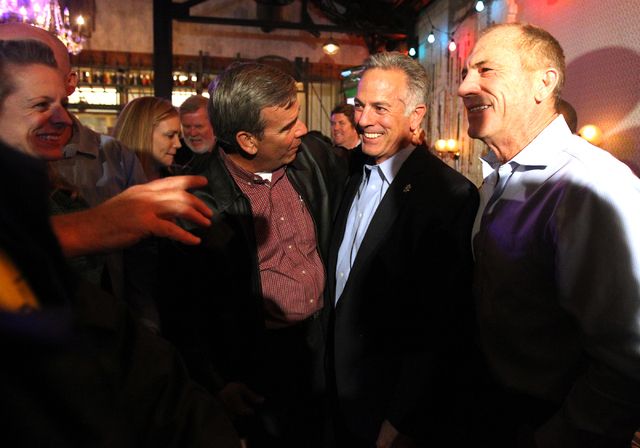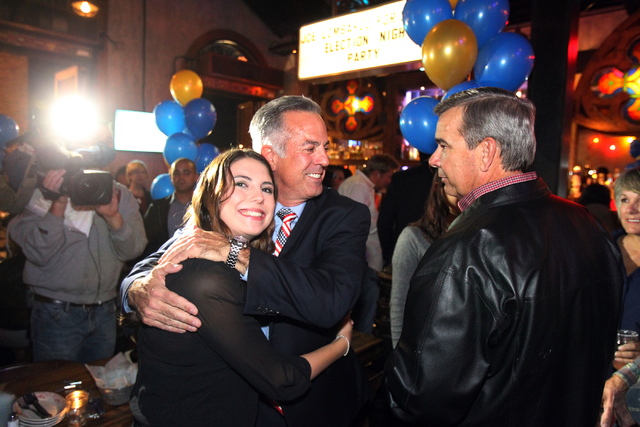 The baton at Metro has been passed.
Las Vegas police Assistant Sheriff Joe Lombardo defeated retired Capt. Larry Burns 51-49 percent in Tuesday's election for Clark County sheriff and won the right to replace his biggest supporter, outgoing Sheriff Doug Gillespie.
Lombardo, a 25-year veteran of Metro, will soon head the state's largest police department. He was smiling and relieved after the results were posted Wednesday morning after a lengthy delay.
"I'm missing all my nails," he said.
With Gillespie and former Sheriff Bill Young supporting him, Lombardo benefited from an almost 2-to-1 fundraising advantage. A large portion of his financial support came from the casino industry, which has historically given money to the outgoing sheriff's hand-picked candidate. And that candidate almost always wins.
John Langley, creator of the television show "Cops" and one of Lombardo's biggest donors, attended Lombardo's party Tuesday at La Comida in downtown Las Vegas.
Langley said he's known Lombardo since the officer was a rookie at Metro.
"Joe's a good guy. He's a tough, direct cop with a social conscience. He's a straight shooter," Langley said.
Lombardo said his first job is to determine how Metro will hire more police officers during a funding crisis.
"That is the most important thing to affect crime," Lombardo said.
Burns, a popular former SWAT lieutenant, proved a tough challenger. Metro's rank-and-file officers and union leaders overwhelmingly supported Burns for sheriff, and he was backed by former Sheriff Jerry Keller and Nevada Attorney General Catherine Cortez Masto.
Metro's largest police union, the Las Vegas Police Protective Association, pushed for their approximately 2,800 members to vote for Burns in the weeks before the election.
But money talks in Las Vegas. In the end, the candidate with the best funding won.
Burns said he called Lombardo just after midnight Wednesday when the final results were released and left a message to congratulate him. He also promised to work with Lombardo.
"Metro will go forward, and I'll do whatever I can to make Clark County a better place, whatever that may be," Burns said.
Many expected fireworks in the competitive campaign, but neither candidate seemed interested in throwing barbs. Both had more than 25 years experience at Metro and were longtime colleagues.
Lombardo touted his education and his administrative experience. Burns spoke often about his efforts while commander of Bolden Area Command, where he oversaw efforts to reduce violence in historic West Las Vegas.
Both candidates promised to continue Metro's deadly force reforms, although Lombardo was energized by a late endorsement from former Assistant Sheriff Ted Moody.
Moody, formerly the chairman of the department's internal Use of Force Review Board, finished third in the primary election and ran a campaign that was highly critical of Gillespie's handling of police shootings. But he said Lombardo was the better candidate to improve Metro's deadly force policies in the longterm.
Both Moody and Lombardo were critical of Burns' record of discipline after officer involved shootings.
They criticized his handling of a lieutenant's probation in the aftermath of the 2011 shooting death of Gulf War veteran Stanley Gibson. Burns' superiors said he ignored an order from his boss to extend the probation of Lt. Dave Dockendorf, who worked for Burns, despite pending internal and criminal investigations.
Burns said both candidates worked extremely hard. After a vacation Burns' family will decide their future, he said.
"It feels like the end of a very, very long 12 months," he said. "I'll do something, I'm just not sure what it will be. I put everything into this and I didn't have a plan B."
Lombardo praised Gillespie's success as sheriff, but repeated something he's said from the beginning of his campaign: He isn't Gillespie's clone. Gillespie was more involved in the day-to-day operation, but Lombardo plans to rely more on middle managers, he said.
"There is more room to challenge and recognize officers for their good work when you rely on their ability and decision making," Lombardo said.
Lombardo also thanked Burns for running a clean campaign and echoed his opponent's comments about working together.
"He has some great ideas," he said.
Contact Mike Blasky at mblasky@reviewjournal.com or 702-383-0283. Find him on Twitter: @blasky. Contact Francis McCabe at fmccabe@reviewjournal.com or 702-380-1039. Find him on Twitter: @fjmccabe.