Lou Ruvo Brain Center ceremonies bring out emotions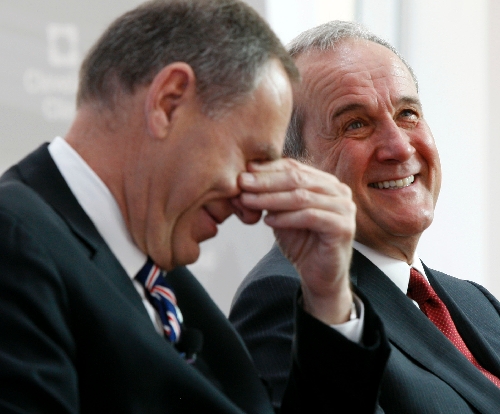 At times, Jerry Strong's mind acts like a blank slate with the memories of his 55-year marriage wiped completely clean.
The 79-year-old has struggled with Alzheimer's for two years now and with each seizure it only gets worse.
Sometimes he forgets about his wife, Pat.
"Imagine having an eraser that erases your whole life," Strong said while blinking back tears. "That's kinda the way it is."
Friday's unveiling of the Life Activity Center at the Cleveland Clinic Lou Ruvo Center for Brain Health was emotional for Strong and his wife, who also is his caretaker. Mayor Oscar Goodman and Dr. Toby Cosgrove, president and CEO of Cleveland Clinic also were in attendance.
One thousand green and blue balloons filled with the memories and wishes of neurological patients and their families were released. The biodegradable balloons drifted and danced, floating away from the swirling, stainless steel building.
Alzheimer's is an incurable disease of the brain that causes progressive degeneration of brain cells. Memory is lost, behavioral changes occur and staring into space is common.
"We really needed this here," said Pat Strong, 75. "Every time Jerry has a seizure he really does lose more of his brain. And even though he gets part of it back, he doesn't get it all back. It's so hard for him."
The $80 million complex, which opened its doors near downtown less than a year ago, is designed to advance the research, early detection and treatment of neurological diseases, including Alzheimer's Huntington's, Parkinson's and Amyotrophic Lateral Sclerosis.
The center at the corner of Grand Central Parkway and Bonneville Avenue will host medical education and other events. The building designed by architect Frank Gehry symbolizes a culmination of medical relationships and puts Las Vegas on the map for world-class brain health care and research, said Larry Ruvo, who founded the center after his father who suffered from Alzheimer's.
"I think my father would be most proud that the hand that was dealt to him is being able to help other people," Ruvo said. "He loved to play cards so I'd have to put it in his vernacular. This is a stamp in credibility for what we're doing."
But for the Strong family, the building represents a way to take back precious memories lost.
"I've got my wife back," Strong said. "She's something wonderful."
Contact Kristi Jourdan at kjourdan@reviewjournal.com or 702-383-0279.
Video: Lou Ruvo brain center opens