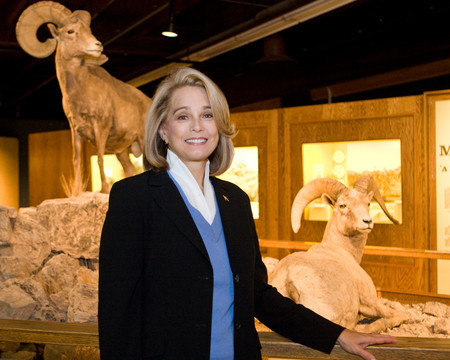 Coverage of a car bomb joke that blew up on Republican Senate candidate Sue Lowden generated some interesting feedback.
Last week Lowden got called out for giggling as conservative radio talk show host Heidi Harris cracked wise about an attempted car bombing directed at the family of Sen. Harry Reid, D-Nev., in 1981. Back then, Reid was fresh off a stint as chairman of the Nevada Gaming Commission.
Seeing that Lowden left the campaign equivalent of a hanging curveball over the plate, Reid's campaign predictably swung hard with an ad criticizing her for making light of the event.
The brouhaha generated a few days of news stories and responses from readers. Some called it proof Lowden isn't ready for prime time. Others criticized the folks who piled on the candidate for an innocent mistake.
The most interesting response, however, might have been one from a Las Vegas man whose own family was the target of a bomb similar to the device planted in the Reid car; both devices were discovered and defused before causing an explosion.
The response was an e-mail from Curtis Swarts, son of George Swarts, a former gaming commissioner.
The younger Swarts recalled the time when his family and Reid's family were targets, presumably of mobsters trying to maintain control of casinos on the Strip.
"We found a wire that had been attached to the car's distributor cap or battery and ran under the vehicle to the rear of it," Swarts wrote of the device, found on Mother's Day in 1981. "The bomb squad told our family that had it ignited it could have taken out not only our car but possibly part of our home as well."
Swarts, a conservative, went on to write that he's no fan of Reid's political ideology. But political division is no reason to forget about an opponent's humanity, he wrote.
"It was a time of fear and great concern for our family and I am sure it was the same for the Reid family," Swarts wrote.
"… It is a shame that anyone would use this particular story to try to belittle him or to make light of an incident that I am sure caused him and his family great distress."
CHACHAS HIRES CONSULTANT
As the Lowden laugh gaffe was playing out, another Republican Senate candidate made a big move from the rear of a pack led by Lowden, Danny Tarkanian and former Reno assemblywoman Sharron Angle.
John Chachas, a New York investment banker who was born and raised in Ely, hired prominent Las Vegas consultant Ryan Erwin to run his campaign.
Erwin is well versed on the issues, particularly health care, and has worked for former presidential candidate Mitt Romney.
Chachas has been quietly raising money and is preparing to move back to Nevada, Erwin said. His intention is to build voter support and become a Republican front-runner. A crowded primary loaded with untested candidates gives Chachas an opportunity to succeed, he said.
"It gets all of the negatives out early. It is very Darwinistic, the strongest survive," Erwin said.
GIBBONS RECOMMENDATION
Unpopular incumbent Gov. Jim Gibbons has landed a few favorable testimonials for his re-election campaign Web site.
In addition to a compliment from Lowden, he has a glowing recommendation from Donna and Chuck Ruthe.
The Ruthes also put their money where their mouths are; they were listed among the hosts for an Oct. 1 fundraiser for Gibbons in Incline Village.
The event drew 46 guests and had a suggested donation of $250 per person.
But if Gibbons is going to catch up with Democrat Rory Reid, who has reportedly raised as much as $3 million, or even Republican Brian Sandoval, who told Review-Journal columnist Jane Ann Morrison, "I haven't had anybody tell me no" during fundraising calls, he has a long way to go.
Another Gibbons fundraiser was recently canceled after hosts, including his chief of staff Robin Reedy, backed out over concerns raised by columnist and TV talker Jon Ralston that staffers working on political fundraisers could run afoul of laws aimed at restricting the intermingling of duties.
Contact reporter Benjamin Spillman at bspillman@reviewjournal.com or 702-477-3861.