LV city manager leaving position
November 14, 2008 - 10:00 pm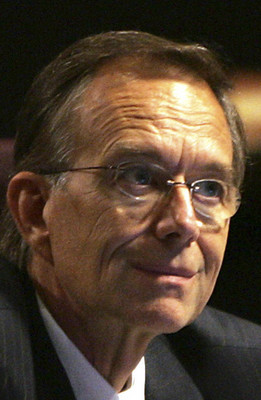 Las Vegas City Manager Doug Selby is leaving the post he's had since 2002 because he's "ready to do something different," he said Thursday.
Selby told City Council members and staff about his decision to give the two months' notice required by his contract.
"I've been thinking about it for some months now," he said. "It's been six years that I've been city manager. It's difficult to leave, but I think it's the right thing for me and my family."
Mayor Oscar Goodman and Selby discussed his desire to step down as city manager.
"I did my best to urge him to stay. He just felt it was time to explore other avenues," Goodman said. "I was hoping he would change his mind. When he said he was going to make the announcement, I knew it was a done deal."
Selby's departure comes as the city is struggling with a budget shortfall and is trying to get employee unions to the bargaining table to discuss future wage and benefits costs.
He said he's going to continue to work on that.
"Hopefully I can continue to achieve a few things to that end," he said.
He delayed his decision while the city was engaged in a review of its policies and services in response to the worsening budget picture.
Goodman said he's scheduling appointments with other City Council members to talk about finding and appointing Selby's replacement.
"I have several folks in mind," Goodman said, although he declined to named them or say how many individuals are on his list. "I haven't talked to the other council members about it."
Goodman said discussing names would be inappropriate until the individuals agreed to be candidates for the position.
Selby, 55, joined the city in July 1999 as deputy city manager and assumed the city manager post in August 2002. Prior to that, he spent 10 years with the Las Vegas Valley Water District and the Southern Nevada Water Authority.
Selby also worked as a biologist on research and conservation efforts in Nevada, California, Utah and Arizona. He has degrees in biology from UNLV and earned a doctorate in environmental engineering from Utah State University.
He's not retiring and plans to consult for a month or two before finding another job.
He said he doesn't plan on managing another city, but that he's "fairly open to a lot of things."
Councilman Larry Brown worked with Selby when both of them were with the Las Vegas Valley Water District. He said the decision was "surprising, but I wish him the very best."
"I have a real sense that it was personally time for him to turn the page and move on to a new chapter," Brown said. "If Doug changed his mind tomorrow, he'd be welcomed back."
Contact reporter Alan Choate at achoate@reviewjournal.com or 702-229-6435.