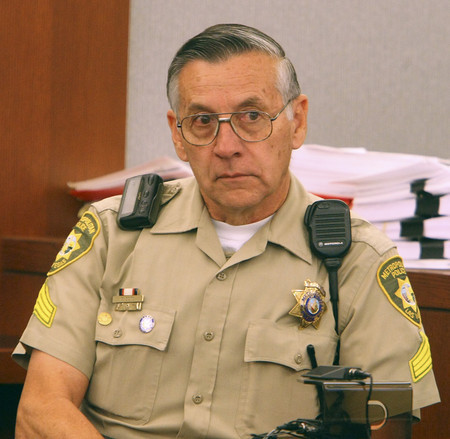 When Las Vegas firetrucks arrived at a burning home on Comstock Drive in September, it seemed like a routine call.
But then a window in the firetruck exploded, right next to firefighter Richard Gonzalez-Reff's head, and the call turned into something else.
"At first I thought it was radiant heat from the fire," Gonzalez-Reff testified Friday. "But then I saw him (the shooter) rack the gun, and I just yelled, 'Go! Go! Go!' "
The shooter was later identified as Bryan Benjamin Hanasz, 36, and the shooting didn't stop until Las Vegas police arrived on the scene and shot Hanasz dead.
The jury in a Clark County coroner's inquest Friday found justifiable the death of Hanasz, who fired shotgun rounds at Metropolitan Police Department officers and city firefighters responding to the fire at his mother's residence Sept. 2.
Officers Steve Tsapatoris and Greg Hazen fired the fatal shots, the jury determined. Sgt. Frank Soto and Sgt. Harry Fagel also fired rounds, but did not strike Hanasz, they determined.
Ten witnesses gave testimony at the inquest, including two firefighters, six police officers, the medical examiner who performed the autopsy and a next-door neighbor.
After firefighters discovered the gunman and were able to flee, all unharmed, police arrived on scene to find Hanasz hiding behind a box van.
It was chaos, officers said. Hanasz had peppered shotgun pellets at every officer and firefighter responding at the scene, striking at least four police cars and two firetrucks.
One police officer, Soto, was also hit with pellets in the forearm, shoulder, back and head, he told jury members.
The injuries were minor, but the pellets are still stuck in his flesh, he said.
"The one in my head still bothers me," Soto told the jury. "The rest aren't a problem."
Tsapatoris and Hazen were able to take cover behind a 3-foot wall, where they fired AR-15 semi-automatic rifles at Hanasz from several hundred feet away.
The officers fired 14 and 15 times, respectively.
Because those bullets turn to fragments upon contact, it couldn't be determined exactly how many times Hanasz was struck.
Soto and Fagel fired shotguns, which are less effective at a distance, they testified.
It couldn't be determined why Hanasz opened fire that day, although neighbor Phyllis Topacio, who had known him since he was a child, testified that before the shootout he was standing calmly outside the house, watching the flames.
"He said 'Go. It's OK. I don't want you to get hurt,' " Topacio said.
She was asked whether his words had additional meaning to her later, after she returned home to the news of his death.
"I think so, yes," she said. "He was planning to do something."
Contact reporter Mike Blasky at mblasky@reviewjournal.com or 702-383-0283.