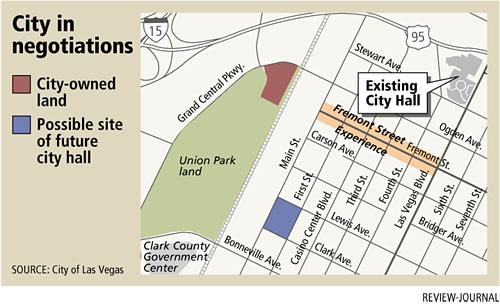 The city of Las Vegas is aggressively pursuing a plan to open a new city hall within four years, hoping to give employees more space with a $225 million facility.
The City Council agreed this week to negotiate for a new city hall site, across the railroad tracks from Union Park. The deal could involve swapping land with a developer, LiveWork LLC, which wants to build a hotel and casino on the city-owned 61-acre parcel.
Deputy City Manager Orlando Sanchez said the city is "basically bursting at its seams" at its current location. Las Vegas has had to rent space throughout the city to house employees and departments.
Councilman Larry Brown, one of the senior members of the City Council, said the number of satellite offices is starting to hurt the city's efficiency.
"I agree we need to do something with City Hall, either look at expanding the existing site or identifying a new site," he said. "We're becoming inefficient, not only from a service standpoint but from a cost standpoint. How much money do you reinvest in a building closing in on 40 years old?"
The current City Hall, which resembles a 10-story Trivial Pursuit wedge with a three-story ring around its base, opened in 1973.
Brown said the City Council will hold a public discussion soon to determine how to proceed.
The city has over the past few years acquired land across Las Vegas Boulevard from City Hall, at 400 Stewart Avenue, for a possible expansion. But those plans were put on hold as the city looked at building a new complex.
Mayor Oscar Goodman said the current site the city is negotiating on would be good for downtown's redevelopment.
It would allow the current City Hall site to be used for a new arena or other development, he said. It also could act as a bridge between new development on the 61 acres and the old downtown.
The 6.37-acre parcel that would go to LiveWork is located on the Union Park land. According to the plan presented to the council Wednesday, it would be used as a site for a 1,000- room hotel and casino. LiveWork general partner David Mitchell did not say who the firm's gaming partner would be in the development.
The 2.57-acre parcel that the city would receive in exchange and use as the site of the new city hall, is the Queen of Hearts Hotel at Lewis Avenue and Main Street.
Terms of the exchange will be worked out during 180 days of negotiation, said Scott Adams, director of the Office of Business Development.
Land surrounding the city hall site owned by LiveWork could be developed by LiveWork into a series of office complexes.
Sanchez said City Hall is starting to have maintenance and energy efficiency problems as well as the space crunch.
It is 250,000 square feet, which includes space for Las Vegas police offices. A new city hall would be 325,000 to 375,000 square feet, Sanchez said.
The city is considering options on how to pay for a new city hall. The most traditional method would be to float a bond that would be paid off using general fund revenue.
Another option is to put out a competitive bid and have a private business build the facility. The city would lease space in the building and have the ability to eventually purchase it.
The Southern Nevada Water Authority's new headquarters was built using that method. City officials say it would save time — possibly a year or more — compared with the city overseeing construction of a new city hall.
Sanchez pointed to the newly opened Regional Justice Center, which suffered cost overruns and delays, as an example of why it's better for private businesses to take on the risk of large projects.