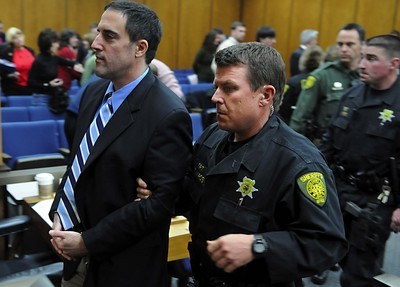 RENO — District Judge Douglas Herndon took nearly two hours Friday to detail point-by-point why a former Reno pawnshop owner is not entitled to withdraw his pleas to killing his wife and shooting their divorce judge.
It took Darren Mack's new lawyer, William Routsis, about a minute to say that an immediate appeal to the Nevada Supreme Court would follow.
After four days of testimony and closing arguments, Herndon ruled that Mack accepted the plea deal voluntarily and knew the legal ramifications when he pleaded guilty to murdering his wife and the equivalent of no contest to attempted murder in the shooting of Family Court Judge Chuck Weller.
"The defendant admitted he killed his wife. He admitted he shot the judge," Herndon said in issuing his decision that Mack, 46, was not entitled to a "do-over."
"There was no indication whatsoever that there was any issue with him understanding what we were going through in terms of the plea," he said, adding that Mack acted "intelligently" throughout the case.
"He stopped me on multiple occasions to ask for clarifications on matters or raise issues he wanted assurances on," Herndon said.
A month after entering his pleas in November, Mack fired his two former lawyers and hired Routsis to argue his claims that the previous defense team pressured him into the plea agreement against his wishes. Mack said he was vulnerable to the pressure because he lacked sleep, proper food and was dehydrated.
But Herndon said Mack never raised those concerns during the trial. Mack's allegation that he was "a puppet and would have done anything," Herndon added, "is completely inconsistent with him engaging in the question and answer process with me and raising issues."
Herndon set a sentencing hearing for Feb. 7-8. Under the earlier plea deal, prosecutors had agreed to recommend a sentence of life in prison with the earliest possible parole after 20 years. He also faces two to 20 years for attempted murder. It will be up to the judge to determine whether the sentences run at the same time or back-to-back.
After the hearing, Special Prosecutor Christopher Lalli said he would argue for a life term.
"I'm very pleased, obviously, with the judge's ruling today," Lalli said, adding he looks forward to sentencing and bringing the case to closure.
He also said Mack's testimony during the hearing will aid the prosecution at sentencing.
Landon Mack, the defendant's brother, criticized Herndon's ruling and the judiciary in general, suggesting the judge was biased toward the two previous defense lawyers, David Chesnoff of Las Vegas and Scott Freeman of Reno.
"He gave all his credibility to his friends," Landon Mack said, speaking to reporters outside the courthouse. "But I don't want to sound like sour grapes."
Asked why he felt the system was against him, he said, "My brother shot a judge."
Darren Mack was charged with first-degree murder for the stabbing death of his wife, Charla, in June 2006. From early on, he maintained he acted in self-defense.
Authorities said he then drove to a downtown Reno parking garage and, with a high-powered rifle, shot Weller through the window of his third-floor chambers.
Mack fled to Mexico and was the target of an international manhunt before he telephoned the Washoe County district attorney and negotiated his surrender. Extensive pretrial publicity forced the judge to order a rare change of venue from Washoe County to Clark County.
Mack initially pleaded not guilty by reason of insanity to that count but ended up entering the equivalent of a no-contest plea under which he acknowledged he shot the judge but didn't intend to kill him.