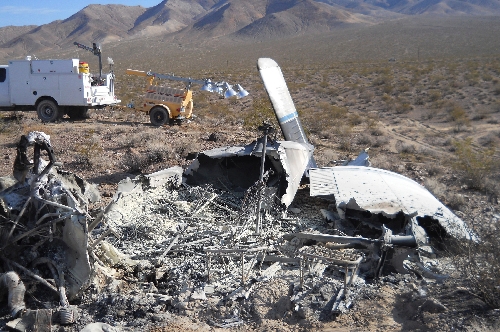 A Las Vegas man and his cat survived a small plane crash in Nye County that knocked out power to the town of Beatty for about 14 hours.
The man, identified in a Nye County Sheriff's Office report as Bernard Harris, 69, remained at University Medical Center, where he was listed Thursday afternoon in fair condition.
The crash is under investigation by the National Transportation Safety Board and the Federal Aviation Administration.
Harris told the sheriff's office he was flying from Reno to Henderson when he decided to land at the Beatty airport because he was running low on fuel and it was getting dark.
As he searched for the airport, his single-engine Piper PA-28 struck power lines and crashed about one mile south of the town.
He managed to escape from the wreckage with his cat in its carrier before the plane went up in flames. He was discovered a short time later by a lineman sent out to investigate the power outage by Valley Electric Association, the Pahrump-based utility that serves the area.
Nye County Sheriff Tony DeMeo said the man's injuries were not life-threatening.
Said Valley Electric spokeswoman Susan Fisher: "He's a very lucky guy."