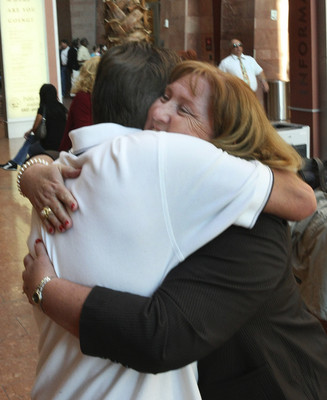 The celebration of an accused killer's conviction was bittersweet for almost a dozen friends and relatives of slain Las Vegas businessman John Herda.
There were hugs, tears, and above all, a huge sense of relief at the Regional Justice Center on Monday when a jury found Bryan Crawley, 40, guilty of killing Herda during a home invasion in 2006. The jury also found Crawley guilty of 23 other charges, including solicitation to commit murder, attempted murder and armed robbery.
"It's like Thanksgiving again," said Nick Herda, one of the victim's sons.
John Herda's daughter-in-law Sue Herda wept in the courtroom after Crawley was found guilty of murder.
"Thank God," one relative said after the verdict.
Crawley remained stoic after the court clerk read the verdict but flashed a big smile at a television cameraman as he was being escorted from the courtroom.
This week, the jury will begin hearing testimony on whether Crawley should be put to death. A decision isn't expected until next week.
Defense attorneys Tony Sgro and Christopher Oram declined to comment after the jury delivered the verdict.
Crawley's trial lasted more than three weeks. Herda's relatives and friends attended every day.
Herda, 83, founded Herda Discount TV and Appliance. He was a Marine who fought in World War II. He also unsuccessfully fought the county in an eminent domain dispute. He lost his home when the county took it to make way for work on Interstate 15 at Silverado Ranch Boulevard.
Herda was found shot to death in his Spanish Oaks home in April 2006.
Authorities said Herda shot and wounded his assailant with a .22-caliber pistol before dying.
Authorities said the robbery and home invasion that led to Herda's slaying was an inside job. A trusted family friend, Christopher Brewer, approached Crawley with a plan to rob Herda because he knew the man's schedule and where he lived.
Brewer pleaded guilty to voluntary manslaughter and accessory to murder, among other charges. District Judge Jackie Glass sentenced him to eight to 20 years in prison in January.
After the slaying, Crawley fled to Mexico to have the .22-caliber bullet removed, according to witnesses who testified during the trial.
When Crawley returned, he went on a crime spree, authorities said. Chief Deputy District Attorneys Marc DiGiacomo and Lisa Luzaich Rego said Crawley got into a fight with a man outside a bar in November 2006, stabbed him and stole his 9 mm handgun.
Two days later, he robbed and tried to kill a woman outside her house in Henderson.
Authorities arrested Crawley in late 2006. While in jail, he asked his cellmate, Kenneth Haywood, to kill three witnesses in the case, DiGiacomo said.
Crawley's ex-girlfriend and mother also pleaded guilty in connection with the case. The girlfriend, Allison Kiel, acted as a lookout during the Henderson robbery, authorities said.
His mother, Lana Hane, tried to fabricate evidence by helping Crawley smuggle gauze soaked with his blood out of the county jail, according to an indictment.
Hane was supposed to wrap a spent .25- caliber bullet with the gauze to prove Crawley was wounded by it instead of Herda's .22-caliber bullet.
Sue Herda said she hopes Crawley is sentenced to spend the rest of his life in prison so "he can't do this to anyone else and he can't get his friends to do this to anyone else."
Contact reporter David Kihara at dkihara@reviewjournal.com or 702-380-1039.