Man reached for shotgun before officers fired on him, police say
December 20, 2013 - 3:48 pm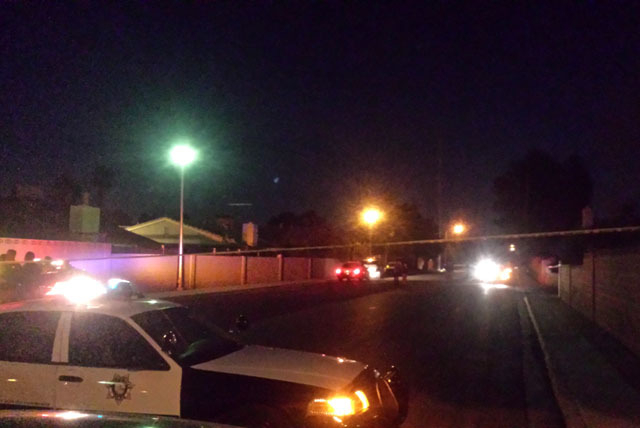 Jose Luis Barrios-Aguilar, the 39-year-old Las Vegas man who tried to kill himself by injecting dog-insulin, was shot in the leg by police officers on Monday night after he apparently tried to reach for his shotgun, Clark County Assistant Sheriff Joe Lombardo said in a press conference on Friday.
Lombardo said investigators believe that Barrios-Aguilar had been consuming narcotics all weekend before his friend, Richard Steensma, 74, called 911 at 9:37 p.m. to report the attempted suicide inside Steensma's house on the 3200 block of E. University Ave.
When police arrived, they saw Barrios-Aguilar coming down the stairwell with a shotgun prompting officers to take cover, Lombardo said.
Eventually, Barrios-Aguilar obeyed police and set the wepon on the ground and started to crawl away from it, Lombardo said. But then he suddenly leaped back and tried to reach for it, prompting police to shoot, Lombardo added.
Barrios-Aguilar was taken to Sunrise Hospital and Medical Center, where he remains. He has been booked in absentia on two counts of assault with a deadly weapon on police officers and one count of resisting a public officer with a firearm.
Officers Todd Fasulo Jr., with three and a half years on the force, and Ronald Phoma, with 13 years of experience, were both put on paid administrative leave until the conclusion of the investigation, Lombardo said.
According to Bill Cassell, a spokesman for Metro, one officer shot at Barrios-Aguilar with a handgun and the other officer shot at him with a shotgun. But which officer fired which was not immediately known.
They both are patrol officers assigned to the southeast section of Las Vegas, where the shooting occurred.
RELATED: Dog insulin suicide attempt prompts police shooting