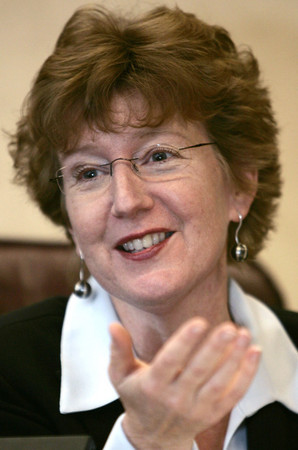 CARSON CITY — Assembly Speaker Barbara Buckley shocked a lot of Nevadans on Sept. 11 when she ended her political career, at least for now, by deciding against running for governor.
Buckley, a 48-year-old Democrat from Las Vegas, was even ahead in the polls when she made the announcement.
Instead of running for governor, she said she wanted to spend more time with her family, but might resume a political life when her 10-year-old son is older.
Insiders, however, speculated she might have been persuaded not to run because her primary opponent would have been Clark County Commission Chairman Rory Reid. It was felt that Buckley might have had a difficult time raising funds in a race against the son of U.S. Senate Majority Leader Harry Reid, D-Nev.
She is prohibited by the term limits law from running again for the Assembly.
But no one really should have been surprised by Buckley's decision. Over the last 25 years, there have been at least five high-ranking legislators who left state government just as political pundits were tagging them as future governors or attorneys general.
Most of them also announced they were leaving to devote more time to their families or their businesses. But none of them subsequently has ever sought a statewide elective office.
Remember Bill Brady, R-Las Vegas? He was the Assembly minority leader in 1981 and 1983. Friendly and likable, he looked like Nevada's first Mormon governor.
But just as the Reagan era began and Republicans were gaining control in the Assembly, Brady quit to devote more time to his businesses and family. Since then his business, Brady Industries, has expanded into other states and his grown children now take an active part in running them.
Still, every two years it seems someone brings up his name as a possible candidate for some office, but Brady, now 63, has managed to keep his name off election ballots. However, he does serve on the Nevada Athletic Commission and on the Nevada Gaming Policy Committee, a group that has not met in years.
Then there was Assemblyman Bob Sader, D-Reno. Even-tempered and smart, Sader chaired the Assembly Judiciary Committee for most of his 12 years in the Legislature. Then in 1993 he quit just as he was being eyed as the next lieutenant governor and a future attorney general.
Sader, now 61, said he wanted to spend more time with his family and earn more money as a full-time lawyer instead of spending part of every other year as a $7,800 legislator. When his kids were older, he was going to return to political life. But he didn't.
The list goes on.
State Sen. Mark James, R-Las Vegas, chaired the Senate Judiciary Committee as a freshman in 1995 and continued to hold that post for the next eight years. He developed a lot of crime legislation that's still in effect today.
James seemed destined to become attorney general and eventually governor.
He quit the Legislature, went home and became a Clark County commissioner. Because of family reasons, he quit that post after two years. His name since then has not been on any election ballot.
What about Democrat Assemblymen Matt Callister and Gene Porter? They were the princes of the Legislature in the late 1980s and early 1990s.
Porter and Callister were being compared with the so-called "gold dust twins," Harry Reid and Richard Bryan, who served in the Legislature in the late 1960s. Reid is now majority leader of the U.S. Senate, and Bryan went on to serve as governor and as a U.S. senator. Some felt that Porter's and Callister's futures might be just as bright.
Porter, now 53, served two terms as the Assembly majority leader, while Callister headed the powerful Ways and Means Committee.
Both were lawyers. They had known each other since grade school.
Callister insisted he and Porter once even talked about him being governor someday while Porter was the attorney general.
Porter quit the Legislature and became a district judge for eight years. His judicial career took a nose dive after the Los Angeles Times made him an example of "juiced justice" in Nevada. Porter held a fundraising party in which lawyers with cases before his court made contributions. He then refused to take himself out of a case involving one of the firms that made political contributions. Porter has denied any improprieties.
Callister, also now 53, went on to win election to the state Senate and then serve two years on the Las Vegas City Council. He remains interested in politics, with opinions on everything, but no longer wishes to serve.
He wants to see the day when the Las Vegas city and Clark County governments, along with Henderson and North Las Vegas, are consolidated into one city of Las Vegas, which has home rule, meaning it could levy taxes without going to the Legislature.
Such changes would save millions of dollars, he said.
The dreams of Porter's and Callister's youth faded as they faced the reality of building law practices, and paying bills for their families.
Their names no longer appear on election ballots.
"My time in public life is over," Porter said in a recent interview. "When my son came along, my perspective changed. I wanted to be a father instead of a politician."
Porter's son is now 16, but he no longer is interested in re-entering political life.
Now 50 years old and running Frias Transportation in Las Vegas, James said what is important in his life has changed.
"Now and then, I think about public service," he said. "But I am not giving it any serious consideration. I was ready to do something different. I enjoy what I am doing."
These days he even makes campaign contributions to former foes such as Rep. Dina Titus, D-Nev.
Sader shared his view about priorities changing.
"It's not in the cards for me," Sader said about a political return. "When I quit in 1993, I made a conscious decision not to be a lobbyist, like a lot of former legislators, and I refused to take any appointments."
His children now are grown, but Sader has moved on. He no longer has political fire in his belly.
Still none of those former political heavyweights is willing to predict that Buckley's ambitions will fade the longer she remains out of political life.
But like them, they say she could decide never to return.
"Eight years is a long time," said former Assemblyman Pete Ernaut, R-Reno, a campaign adviser to Republican gubernatorial candidate Brian Sandoval.
"Barbara was a very formidable candidate, if not the favorite. People have to keep in perspective what she was walking away from. She left for the right reasons. A lot of people don't have the courage to make that decision," Ernaut said.
Ernaut himself left the Legislature after his first child was born. He now has four children and he promised his wife not to run again until the youngest is in college.
"Public service is hard," Ernaut added. "It takes a toll on your family and your finances. It is hard being a good father and a good legislator."
He anticipates Buckley will wait until 2018 to run for governor since whoever is elected next year likely will seek a second term and be considered the favorite in 2014.
David Damore, a political science professor at the University of Nevada, Las Vegas, expects Buckley will return, but it might not be as a gubernatorial candidate and it won't be eight years from now.
With the term of U.S. Sen. John Ensign, R-Nev., expiring in 2012, he expects Rep. Shelley Berkley, D-Nev., will go after that seat. Buckley then could run for her House seat.
Nevada also might gain another seat in the House after the 2010 census. That seat also would be up for grabs.
"My guess is she will come back," Damore said.
He added that Buckley cannot wait too long or she will be forgotten.
"There is a time when you have to run or you lose your contacts and leverage," Damore said.
Contact Capital Bureau Chief Ed Vogel at evogel@reviewjournal.com or 775-687-3901.