Mayor Goodman's son seriously injured at a Summerlin park
December 29, 2013 - 3:47 pm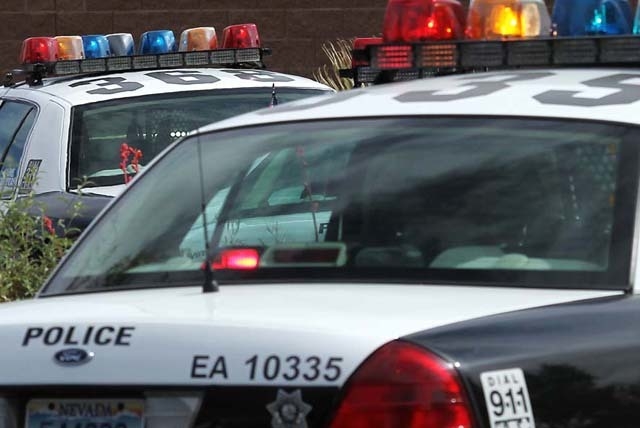 Eric Goodman, a Las Vegas justice of the peace and son of Mayor Carolyn Goodman and Oscar Goodman, suffered a severe head injury at a Summerlin park nearly two weeks ago, but it's unknown how he got his wounds, police told the Review-Journal Saturday.
Detectives don't know if the judge was assaulted or fell and suffered his injuries, said Lt. Clint Nichols, who oversees the Metropolitan Police Department's violent crimes section.
"We really don't know what happened," Nichols said.
Assistant Sheriff Kevin McMahill said police are continuing their investigation, but he noted, "We can't rule that it was a criminal act, and we can't rule that it was not a criminal act."
The judge has not given an official statement to detectives, though they have met with him briefly.
Nichols said investigators are awaiting medical clearance from a doctor when Eric Goodman is lucid enough to make a statement to police.
"He may not remember anything," the lieutenant said.
He said the person who found the judge told investigators that all Eric Goodman said when he was found was, "What happened?"
Nichols said the Goodman family has been kept apprised of the investigation.
Detectives have had little to go on and have asked for the public's help in the case.
An avid runner, Eric Goodman, who is in his 40s, was found with a head wound about 2:30 p.m. Dec. 15 in the men's restroom at South Tower Park, near Charleston Boulevard and west of the Las Vegas Beltway.
Investigators said he left his nearby home about 11 a.m.
The judge also had an injury on his arm that was consistent with either blocking a fall to the ground or defending himself.
On Dec. 23, police sent out a request for the public's help in finding what happened to a jogger who had been injured and found in the men's rest­room at the park.
The jogger turned out to be Eric Goodman, and his injuries were so severe he could not help police determine what happened.
Eric Goodman, who is an athletic 220 pounds and is 6 feet, 3 inches tall, was wearing a gray cap, a gray jogging suit with stripes down the legs and blue tennis shoes.
In a statement, Carolyn and Oscar Goodman said, "One of our sons suffered a traumatic injury. He received the best of care at University Medical Center. He is now in a rehabilitation center and doing very well. The family asks that our privacy is respected through his recovery."
Eric Goodman, who is up for re-election next year, was first elected to a six-year judgeship in 2008. He became the first judge in the newly created Department 11 in Las Vegas Justice Court.
Before that, he worked as a criminal defense lawyer in his father's law firm.
The injury was first reported by a television news station, which incorrectly said Eric Goodman's brother, defense lawyer Ross Goodman, was the person injured.
Anyone with information about what happened can call the police violent crimes section at 702-828-5634 or, to remain anonymous, contact Crime Stoppers at 702-385-5555 or www.crime­stoppersofnv.com.
Contact reporter Francis McCabe at fmccabe@reviewjournal.com or 702-380-1039.