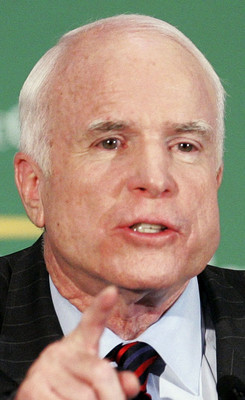 Presumptive Republican presidential nominee John McCain began his first television advertising of the general election season Friday with a spot that will air in Nevada and other swing states.
The 30-second commercial, titled "Safe," stresses McCain's military experience. In it, the candidate talks directly to the camera, while violins keen in the background.
"Only a fool or a fraud talks tough or romantically about war," McCain says in the ad. "When I was five years old, my father left for war. My grandfather came home from war and died the next day. I was shot down over Vietnam and spent five years as a POW. Some of the friends I served with never came home.
"I hate war, and I know how terrible its costs are. I'm running for president to keep the country I love safe."
Senate Majority Leader Harry Reid, D-Nev., blasted the ad Friday, saying McCain's support of the war in Iraq belies the ad's message.
"If he truly hates war, he should lay out his plan to get American troops out of Iraq quickly and safely," Reid said. "If he is truly concerned about the costs associated with the war, he should end his happy talk about the state of America's economy, lay out a plan for improving it and start working with Democrats in Congress on ways to strengthen the economy for Nevada's hardworking families."
Sources said the ad will be airing statewide in Nevada, although the campaign refused to say how widely or for how long it will be shown.
The ad is airing in 10 states: Nevada, Colorado, Iowa, Michigan, Minnesota, Missouri, New Mexico, Ohio, Pennsylvania and Wisconsin. All are considered battlegrounds for the general election.
McCain began advertising in Nevada earlier in the week with ads on Spanish-language radio. A campaign spokesman said the state will be a target.
"Nevada is a key swing state and will be a focus of Senator McCain's campaign," Rick Gorka said. "John McCain's experience (is) as a western Senator, whose maverick record of finding bipartisan solutions will be a key component of his message in 2008."
Presumptive Democratic nominee Barack Obama hasn't aired ads in Nevada since the Jan. 19 caucuses. A spokeswoman said she didn't know when Obama ads would begin.
"Nevada is a battleground state, and we plan to wage an aggressive campaign," Shannon Gilson said.
University of Nevada, Las Vegas political scientist David Damore noted that McCain has been criticized for failing to capitalize on his months-long head start, having captured his party's nomination while Obama battled Hillary Clinton.
"They should have started organizing here as soon as they clinched," Damore said of the McCain camp. Instead, with Obama having built a grass-roots operation in Nevada for the caucuses, which were won by Clinton, Obama starts with an edge, Damore said.
Contact reporter Molly Ball at mball @reviewjournal.com or 702-387-2919.