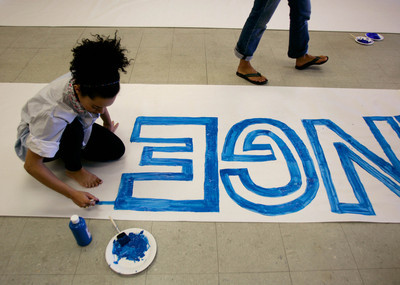 With Democratic presidential nominee Barack Obama scheduled to visit Elko and Las Vegas today, Republicans welcomed him to Nevada by hitting the airwaves with attack ads on English and Spanish radio.
The English ad, which the Republican National Committee said would air on Las Vegas and Elko stations, turns Obama's own slogan against him, claiming that it is Republican nominee John McCain who will bring change to Washington, while electing Obama will merely lead to "more of the same."
Obama is scheduled to speak in Elko at 11 a.m. today, followed by a 5 p.m. Las Vegas rally at Cashman Field.
Doors open at 2:30 p.m. for the Las Vegas rally, which is free and open to the public. Cashman Field, the 9,000-seat outdoor baseball stadium where the minor-league Las Vegas 51s play, is located downtown at 850 Las Vegas Boulevard North, near the intersection of Washington Avenue and Las Vegas Boulevard.
Tickets are not required, but the Obama campaign encourages those who would like to attend the "Change We Need" rally to RSVP online at www.nv.barackobama.com.
Obama and McCain are competing hard for votes in Nevada, where most polling shows a tight race as the election nears in less than two months.
In Elko, Obama heads into historically hostile territory for Democrats. In 2004, President Bush got four times as many votes in Elko County as Democratic nominee John Kerry.
With less than 15 percent of the state's registered voters living outside Clark and Washoe counties, some strategists wonder whether it's worth a Democrat's time to venture out to rural Nevada. But Obama's visit there today is his third in the past year and a half he's been campaigning.
Campaign spokeswoman Kirsten Searer said Obama is determined to "take his message of change to every corner of the state, including traditionally Republican areas. Republicans and Democrats are all frustrated with the past eight years, and they don't want more of the same."
Picking up on the seemingly endless refrain of "change" versus "more of the same" in this presidential campaign, Republicans — the party of President Bush — are attempting to steal some of Obama's thunder with the radio ads timed to his visit.
"Change or more of the same? That's the argument Barack Obama has been trying to make," a narrator says in the ad. "What about pork-barrel spending? In 20-plus years in the Senate, John McCain has never sought an earmark. Not once."
An earmark typically directs a specific amount of money to a project in a lawmaker's home state or district.
Obama, the ad charges, has "requested nearly a billion dollars in earmarks" since becoming a senator in early 2005. "John McCain and (vice presidential nominee) Sarah Palin will shake up Washington," it states. "Barack Obama: more of the same and opposed to real reform."
The Obama campaign fired back by noting that McCain has been in Washington for nearly three decades and suggested he's part of the problem when it comes to the economy. Spokeswoman Searer said voters won't buy the idea that McCain, who has supported most Bush policies, can turn things around.
"Just now, John McCain and his strategists have belatedly come to the realization that after eight disastrous years, Americans are demanding change," she said. "We welcome that debate."
A different Republican ad is scheduled to start airing on Spanish-language radio stations in Las Vegas today.
Echoing previous McCain campaign attacks, it charges that Obama tried to kill the compromise immigration legislation that McCain sponsored in 2006.
Obama backed amendments supported by labor unions that some termed "poison pills" because they would have made the legislation less palatable to some in its fragile coalition of support. But supporters of comprehensive immigration reform consider Obama an ally, while McCain later backed away from the issue, which was costing him support from conservative Republicans.
Contact reporter Molly Ball at mball@reviewjournal.com or 702-387-2919.