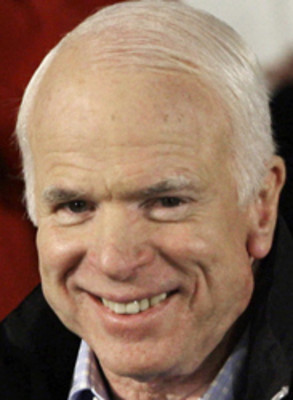 On this Election eve, the members of the Republican ticket will make their last campaign stops in Nevada, while the prospective Democratic first lady is scheduled to campaign in the state for her husband.
Republican presidential nominee John McCain is scheduled to campaign in Henderson this evening, while his running mate, Sarah Palin, has stops set for Reno and Elko.
Michelle Obama, wife of Democratic presidential nominee Barack Obama, is slated to be in North Las Vegas this morning.
Doors open at 4 p.m. for McCain's rally at the Henderson Pavilion, 200 S. Green Valley Parkway, south of Interstate 215. The event starts at 6:45 p.m.
Palin's speech in Reno is scheduled to begin at 7:30 p.m. at the Reno-Sparks Livestock Events Center, 1350 N. Wells Ave. Doors open at 5:30 p.m.
Palin's Elko rally begins at 10 p.m. at Elko High School, 987 College Ave. Doors open at 8:30 p.m.
Michelle Obama's morning rally at the College of Southern Nevada's Cheyenne campus, 3200 E. Cheyenne Ave., is scheduled to begin at 11:30 a.m., with doors opening at 10:30 a.m. The campus is located just west of Pecos Road.
In a campaign that has seen plenty of focus on Nevada, the candidates have become somewhat familiar faces. Barack Obama visited the state for the 20th time on Saturday, holding a rally in Henderson.
Michelle Obama was in Las Vegas a week ago, while Palin was in Henderson the week before that. McCain is making his first visit to the state since early August.
On Sunday, Nevada Democratic leaders put forth the theory that McCain has been intentionally avoiding Nevadans because he doesn't want to answer their questions about Yucca Mountain. Former Gov. Bob Miller and Rep. Shelley Berkley held a news conference to call attention to McCain's recent comments in a speech in Iowa that seemed dismissive of Nevadans' concerns about the proposed nuclear waste repository.
In the speech, McCain mocked Obama for not being aggressive enough in embracing all possible solutions to America's energy problems.
"We talked about offshore drilling, and he said he would, quote, consider offshore drilling," McCain said with an audibly sarcastic tone. "We talked about nuclear power — 'Well, it has to be safe, environment, blah blah blah.'"
With four Democratic staffers in the background holding posters that read, "McCain:" "Blah," "Blah," "Blah," Miller called McCain's statement a "mockery" of Nevadans' desire not to have potentially deadly nuclear waste in their backyard. Added Berkley: "This is insulting to the people that I represent."
McCain spokesman Rick Gorka said the point of the remark was that no one has been able to pin down how Obama proposes to reduce America's dependence on foreign oil. "Unlike Obama, John McCain wants to do all of the above. He wants to have all of the options on the table," Gorka said.
Obama has said he is open to expanding nuclear power, but he would end the Yucca Mountain project, which most Nevadans oppose.
After campaigning here today, McCain will be headed back to his home state of Arizona for Election Day. Palin will go from Elko to her hometown in Alaska to vote, then join McCain in Arizona.
Contact reporter Molly Ball at mball @reviewjournal.com or 702-387-2919.