McCain to warn about defense cuts in North Las Vegas visit
August 10, 2012 - 9:36 am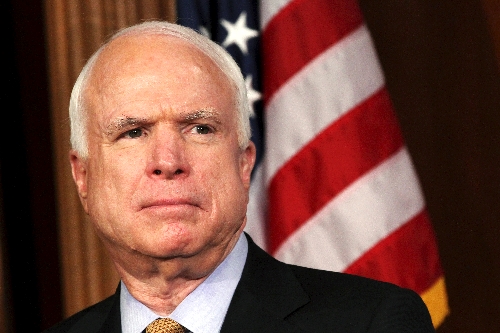 WASHINGTON – U.S. Sen. John McCain, the 2008 GOP presidential candidate, is coming to Nevada on Monday to warn against looming cuts to the military.
The Arizona Republican announced Friday that he and two other members of the Senate Armed Services Committee would travel to Nellis Air Force Base and hold a town hall meeting in North Las Vegas to discuss the impact of the cuts.
McCain, Sen. Lindsey Graham, R-S.C., and Sen. Kelly Ayotte, R-N.H., have made similar treks to Florida, North Carolina, Virginia and New Hampshire – other battleground states in the presidential election.
"North Las Vegas and similar communities across the nation – which do so much to provide our troops the equipment and support they need to defend our country – will bear the brunt of the defense sequestration cuts. Their voices must be heard in Washington," the trio said in a news release Friday.
Brian Rogers, a spokesman for McCain, said that Sens. Harry Reid and Dean Heller of Nevada had been invited to join them.
"It is intended to be a bipartisan event because it is a concern that spans ideology and the partisan divide. In all these states, we've invited senators from both parties. We're not affiliated with the Romney campaign or anything," Rogers said.
Like the other trips, the senators are paying for the travel through their own campaign committees, and additional trips are being considered in states where the defense cuts would hit hardest, he said.
Rogers said the senators hope to build pressure on Congress to avoid the automatic spending cuts, which would start on Jan. 2 as part of a deficit reduction deal struck last year.
The budget reconciliation act, which McCain supported, created a special bipartisan committee to reduce the deficit by $1.2 trillion over the next decade. Because the committee failed to deliver a plan, the law triggered automatic spending cuts known as "sequestration."
Tax increases – then and now – remain a major stumbling block in reaching an agreement.
Democrats have proposed raising taxes on wealthy Americans to help balance the budget. Republicans, who favor budget cuts, have rejected that approach.
Reid, who is Senate majority leader, sent a letter last month to McCain and other Republicans on the Armed Services Committee saying they must stand up to "rigid ideologues" in their own party and cut a deal increasing tax revenues before he considers reversing the defense cuts.
The Congressional Budget Office projects that the "sequestration" would require the Department of Defense to cut its budget by about $55 billion per year starting in January.
"President Obama's own Secretary of Defense called the looming defense cuts under budget sequestration 'devastating,' likening them to 'shooting ourselves in the head,' and yet to date, Congress and the Obama Administration have done nothing to stop them from going into effect," the GOP senators said.
Rogers said that McCain has been working with Sen. Carl Levin, D-Mich., who chairs the Senate Armed Services Committee, on a plan to avoid the automatic cuts. They have not struck a deal.
Still, McCain would like to see Congress act before the November presidential election, Rogers said.
After visiting Nellis, the three senators are planning a town hall meeting at the Telecommunications Auditorium at the College of Southern Nevada's Cheyenne Campus.
The event is scheduled to start at 3 p.m.
Contact Stephens Washington Bureau reporter Peter Urban at purban@stephensmedia.com or at 202-783-1760.