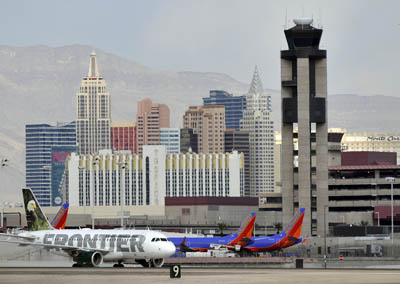 The number of passengers flying to and from Las Vegas fell 11.8 percent in March to about 3.6 million, according to figures published Tuesday.
The decrease represents nearly 244,000 fewer people arriving at McCarran International Airport for the month, more than the entire population of Henderson.
None of the top five airlines serving Las Vegas were immune to the downward trend.
Southwest, by far the biggest carrier at McCarran, fell 2.8 percent to about 1.4 million arrivals and departures.
US Airways, the second-largest, was down 33 percent to 458,616, a reflection of major cutbacks that began last fall as the airline absorbed blows first from high fuel prices then from recession-related travel declines.
United was down 5.5 percent to 251,665, Delta fell 10 percent to 202,150 and American was down 1.3 percent to 185,876.
Las Vegas-based Allegiant Air was a rare bright spot.
Allegiant's 181,821 arrivals and departures were up 4.8 percent from March 2008 and company officials anticipate continued growth through September.
"What we've shown for a long time is we know how to make money with leisure customers," said Robert Ashcroft, vice president of planning for Allegiant.
Brad Hawkins, a spokesman for Southwest, said the downturn in airline traffic isn't limited to Las Vegas.
"What we are seeing in Las Vegas is what we are seeing across our system," he said.
Despite the downturn, which combined with poorly timed bulk fuel purchases resulted in Southwest recently declaring quarterly financial losses, the airline isn't planning significant cuts to Las Vegas routes.
Southwest has 234 daily departures from Las Vegas. In May it will offer 233 and in August the schedule changes to 224.
"When consumers find the right price they are jumping on it," Hawkins said. "We expect planes to be very full this summer."
Like Las Vegas resorts, airlines are in the position of having to lower prices to entice customers to their product.
It's unpleasant for the airlines because it eats into profits. But the price flexibility benefits resorts because it lowers the overall cost of a Las Vegas vacation.
And until the economy improves, airlines and resorts will be forced to choose between cutting prices or losing business.
"As more and more people start noticing Vegas is a bargain demand for Vegas will pick itself up off the floor," Ashcroft said.
In addition to spending less, customers also are making vacation decisions later than they used to, which means less planning time for companies.
For example, during the bygone boom times about 80 percent of Allegiant's seats in a given month were booked by the beginning of the month. Now, it's about 65 percent.
"It was a little scary when it first started," Ashcroft said. "But we have begun to trust again the demand will ultimately be there."
The airport is also affected by the downturn.
Already Clark County Aviation Department officials have tightened the reins on hiring and other expenses. The upcoming fiscal year operating budget is expected to fall from the current level of $376 million to about $355 million.
Fees per enplaned passenger, which cover much of the airport's expenses and are applied through the airlines, are expected to increase from about $6.70 to as much as $7.10. The national average is $10.25.
"We are not anticipating any layoffs … assuming everything holds the same," said Randall Walker, director of the aviation department.
Contact reporter Benjamin Spillman at bspillman@reviewjournal.com or 702-477-3861.