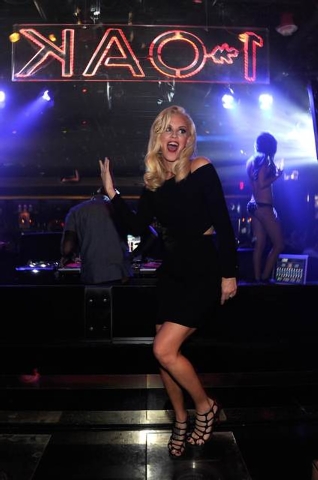 If you worked with Whoopi Goldberg on "The View" every day, wouldn't you quote Whoopi's old movies at her? Jenny McCarthy does.
"Whoopi's cool," McCarthy tells me. "I just keep doing the 'Ghost' quotes to her constantly: 'Molly, you in danger, girl.' "
"It's nice," McCarthy says. "We've got an Oscar winner in Whoopi. We've got an Emmy winner with Barbara (Walters). And we've got a Razzie winner in myself."
McCarthy has won a few Golden Raspberry Awards (Razzies), which are the opposites of the Oscars.
McCarthy lived in Vegas a few years ago. She loves it here so much, she is filming a TV special at the Hard Rock Hotel's club Vinyl on Friday and Saturday nights.
"Jenny McCarthy's Dirty Sexy Funny" features comedians Rachel Feinstein, Tiffany Haddish, Justine Marino, Lynne Koplitz and Tammy Pescatelli.
McCarthy started developing "Dirty Sexy Funny" two-and-a-half years ago, because she is a comedy nerd, and she wanted to create a brand that rallies behind funny women.
"I toured for two years, from comedy club to comedy club, even open-mic names, and wrote down names of girls" to feature at this inaugural gig.
Epix will film here this weekend and run the show near or on Valentine's Day.
"I said, 'The only place (it can be filmed) is Las Vegas, and I would love the Hard Rock, because that's the demo for this brand.'"
McCarthy will host it and present pre-taped sketches.
"I'm doing what I think I do best, which is the inside of what a girl is really thinking," she says.
"I have sex scenes of what girls think about during sex, what women think about when they're with their kids — whether that's flipping the bird to them after they turn around or …."
By the way, I have two good McCarthy-Vegas stories.
First: Courtney Love told me she got out of rehab once and came straight to Vegas to do a bunch of cocaine with famous people I won't name here. But Love said McCarthy was the only celebrity who was not "doing blow."
Second: A few years ago, McCarthy was asked to sign chef Geno Bernardo's office door at Nove restaurant in the Palms. McCarthy wrote, "I didn't do drugs just so I could taste your amazing food."
When I bring up these two anti-drug stories, McCarthy laughs and can't believe Love told me that story.
"That's what she said?"
Yes. So how straight-edge is McCarthy?
"I am pretty straight edge. You know why? I did my partying in college. Thank God there were no hard-core drugs.
"By the time I left college, I moved out to L.A. I was so broke and determined. I was looking at people around me doing so many drugs, and I was like, 'Well, that's not the route I want to go to make it.' So I stayed focused.
"I still enjoy my cocktail, I'll tell you that. My martini at night."
She'll have a martini at the Hard Rock show or at the after-party in Body English nightclub.
"I just want people to check that (show) out. It's the baby I've been working on for a while. It's the first time coming out trying to do something new, so I hope people back it up."
Doug Elfman's column appears on Page 3A in the main section on Mondays, Tuesdays, Thursdays and Saturdays. He also writes for Neon on Fridays. Email him at delfman@reviewjournal.com. He blogs at reviewjournal.com/elfman.