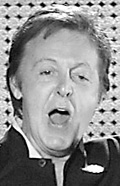 Paul McCartney will help inaugurate the new 4,000-capacity theater at the Hard Rock Hotel with a concert April 19. He joins The Killers on an opening weekend that shuttles both acts back and forth from the Coachella Music and Arts Festival in Indio, Calif.
McCartney plays the Hard Rock two nights after he headlines at Coachella. The Killers do the reverse, playing the Hard Rock on April 17 as a warm-up for their Coachella show the next night.
Both acts will break in the new version of The Joint, which is going up in a former parking lot on the east side of the property. It will replace the current concert hall, which closes with a Mötley Crüe concert today.
The two concerts announced so far leave April 18th still open. The smart money is on another Coachella act filling the date.
McCartney tickets go on sale at noon Feb. 14 at the Hard Rock and Ticketmaster outlets. Prices have not been announced.
Contact reporter Mike Weatherford at mweatherford@reviewjournal.com or 702-383-0288.