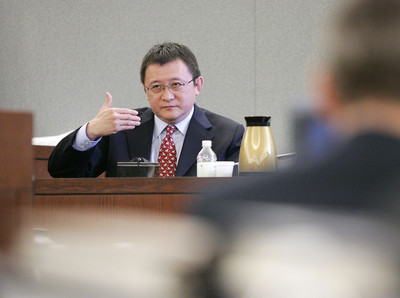 Hong Kong businessman Richard Suen said he held two face-to-face meetings with Las Vegas Sands Corp. Chairman Sheldon Adelson on successive days in July 2000 and the casino operator expressed immediate interest in the possibility of gaining a Macau gaming license.
Suen, testifying Tuesday afternoon in Clark County District Court for the first time in his civil lawsuit against Las Vegas Sands, said he met with Adelson in the lobby of the Peninsula Hotel in Hong Kong some six years after he became friends and a business associate with Adelson's brother, Leonard Adelson.
"The first meeting lasted about 45 minutes to an hour," Suen said. "I told him I have good news that the Macau gaming monopoly was being broken up. I said I have very good connections to help you get a license. He was interested and asked a lot of questions."
Suen, who claims he helped Las Vegas Sands win a shared gambling concession from the Macau government in 2002 and is owed millions of dollars by the company, said his Chinese business partner, Peggy Li, had connections and contacts with key officials in the Communist Chinese government, which they parlayed to operate several successful businesses in China during the 1980s and 1990s. Suen testified that Li had been a high-ranking member of the People's Liberation Army in China.
Two of Li's other business counterparts who became associated with Suen, Zhu Zhensheng and Choi Yuen Yuen, were also high-ranking members of the People's Liberation Army and had additional connections in the Chinese government, according to testimony.
"She had contact with many important people," Suen said. "They used to move around in the senior circles of the Communist Party."
Suen, a resident of Hong Kong, said he met Leonard Adelson in 1994 in Hong Kong. He said it was about two or three years later that he learned of Adelson's brother, Sheldon Adelson.
"I remember during one of our many encounters that he briefly mentioned his brother," Suen said. "He mentioned Comdex (the giant computer trade show Sheldon Adelson used to own) and that he owned a casino in Las Vegas."
Suen said he contacted Leonard Adelson in 2000 when he learned through his business associates about plans to liberalize casino gaming in Macau, which at the time was handled through a monopoly controlled by Hong Kong billionaire Stanley Ho.
"Lenny set up the meeting rather quickly," Suen said.
Sheldon Adelson, Suen said, had a lot of questions about how Macau operated. He told the casino operator that the Chinese government didn't want something small, like Stanley Ho's casinos. The government wanted something large and operated by an American company.
"He told me that given the right conditions, he could turn Macau into the Las Vegas of the Far East," Suen said.
The two, according to Suen, also discussed financial compensation, but never talked about any figures. Suen told Adelson he had a team of people that would help him get a gaming license.
"I told Mr. Adelson I wasn't doing this for free, that I would need a written agreement," Suen said. "We wanted to be compensated for our efforts. He said that wasn't a problem."
Suen only spent about an hour on the witness stand. Part of the afternoon was taken up with the conclusion of testimony from Las Vegas Sands President Bill Weidner, who spent parts of six days testifying in the trial.
Jurors watched videotaped testimony of Weidner from 2005, telling attorneys how the company's efforts in 2001 to halt a resolution in Congress that could have stopped Beijing from winning the 2008 Summer Olympic Games, played a role in the company's licensing efforts.
Weidner, on tape, said Stanley Ho told Las Vegas Sands executive Brad Stone in early 2001 the company would win the gaming concession because of its efforts to kill the resolution.
Adelson, according to his testimony early in the trial, called then-House Majority Whip Tom DeLay about the legislation. Weidner told Las Vegas Sands' Washington, D.C.-based lobbying firm to put out the word about the company's efforts, according to his previous testimony.
"It was an urban legend that we created," Weidner told jurors Tuesday, downplaying the company's role in stopping the legislation. "If Stanley Ho ended up with that information, it came from the urban legend we created. We found out later that there was never going to be a vote on the resolution."
Suen's attorney's wanted jurors to see Weidner's 2005 comments because it proved a meeting Suen arranged in Beijing between Sands executives and Chinese government officials helped in the licensing effort.
Contact reporter Howard Stutz at hstutz @reviewjournal.com or 702-477-3871.